On November 5, at the sixth China International Import Expo (CIIE) in Shanghai, Prime Minister Alikhan Smailov reaffirmed Kazakhstan's commitment to enhance regional food security and support Kazakhstan-China joint ventures, QazMonitor reports citing primeminister.kz.
At the official opening ceremony, Smailov expressed strong confidence that the volume of products manufactured by joint ventures of the Republic of Kazakhstan and the PRC will only grow in the future.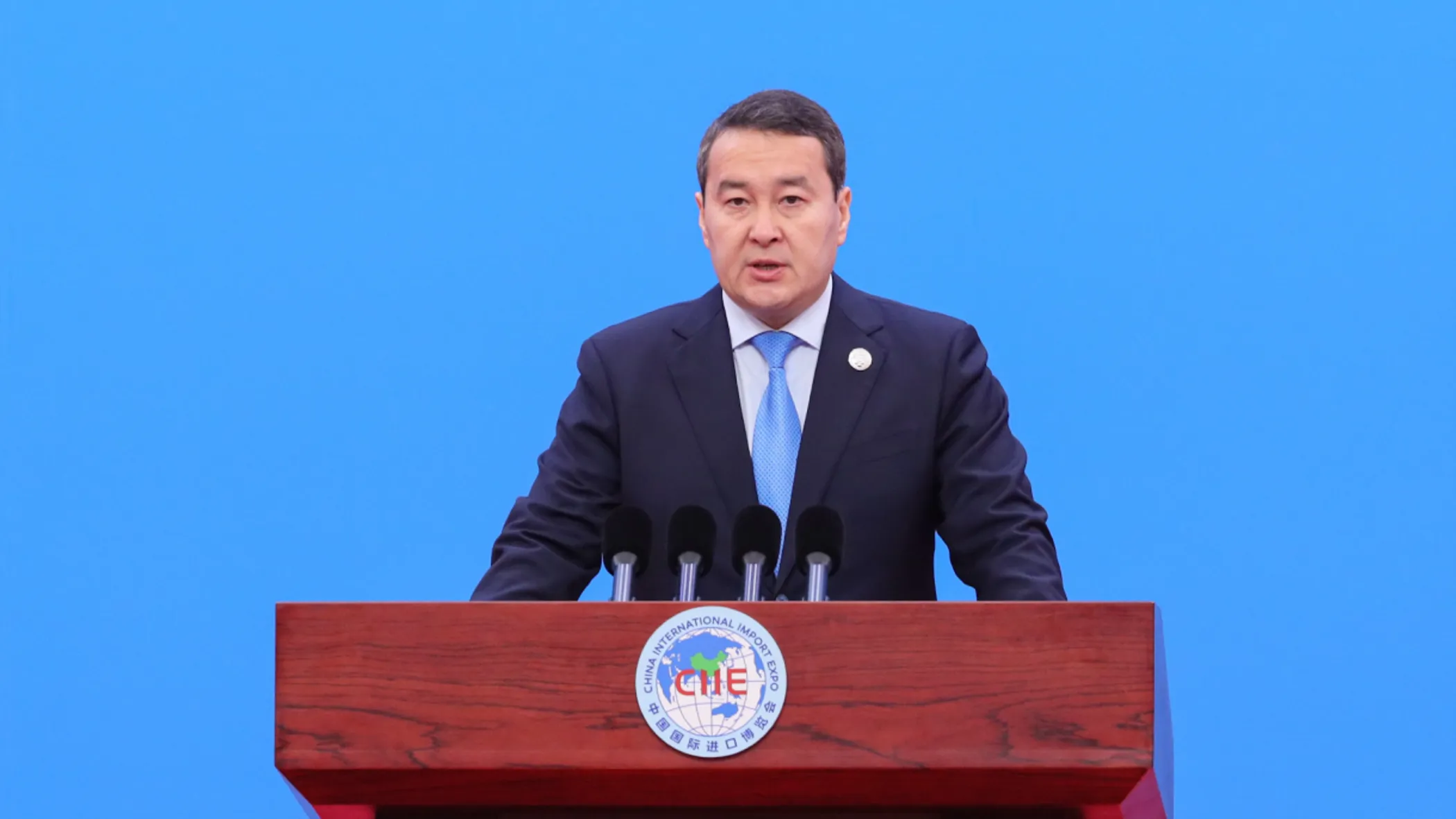 The Prime Minister emphasized the importance of advancing trade and cross-border e-commerce. Notably, over the past decade, China's trade volume with the countries along the 'One Belt, One Road' reached $19.5 trillion, with total investments at $380 billion.
Trade between the Central Asian region and China is rapidly growing. At the end of last year, this figure amounted to $70 billion, 45% of which is accounted for by Kazakhstan. We believe there are all the necessary conditions to maintain these dynamics and bring trade turnover to $100 billion by 2030.
Alikhan Smailov, the Prime Minister of the Republic of Kazakhstan
Moreover, Kazakhstan, being one of the world's top ten wheat and flour producers, maintains a consistent flow of ecologically clean oilseeds, grain, meat, and various other products to China. Prime Minister Smailov underscored the country's readiness to execute agricultural projects, strengthen regional food security, and embrace food development initiatives.
Smailov also highlighted Kazakhstan's interest in expanding mutual e-commerce platforms and jointly promoting products across Eurasia, citing successful collaborations with Alibaba Group.
In the realm of transport and logistics, Prime Minister Smailov pointed out that Kazakhstan serves as a key regional transport hub, with around 85% of land transit transportation from China to Europe passing through the country.
"To further increase container transportation along the route "China - Europe", we propose to use the Trans-Caspian International Transport Route more actively. It will reduce the time of transportation of goods by almost half," stated Smailov.
Kazakhstan is currently involved in substantial infrastructure projects, including the construction of Kazakh terminals in the city of Xi'an and the Georgian port of Poti, the establishment of the third railway checkpoint on the Kazakh-Chinese border, dry ports at the "Bakhty" and "Kalzhat" crossings, the creation of a container hub in Aktau, as well as the expansion of port facilities on the Black Sea along the Middle Corridor.
Other major projects include the "Western Europe - Western China" international road corridor, a logistics center in the port of Lianyungang, an international center of cross-border trade "Khorgos", a joint dry port in the zone "Khorgos - Eastern Gate", a new railway corridor "China - Kazakhstan - Turkmenistan - Iran", etc.