PM Alikhan Smailov held talks with deputy prime ministers of Uzbekistan Jamshid Khodjaev and Jurabek Mirzamahmudov regarding mutual trade cooperation and the establishment of a joint trade company, QazMonitor reports citing the PM's press service.
The Uzbek delegation arrived in Astana to discuss a road map for implementing the agreements reached in a meeting between Kassym-Jomart Tokayev and Shavkat Mirziyoyev on December 21-22 in Tashkent.
The discussion touched on the topics of mutual trade growth, strengthening of transport-logistic cooperation and development of corresponding infrastructure, the launch of cooperation projects in industry and agriculture, and the creation of new processing clusters.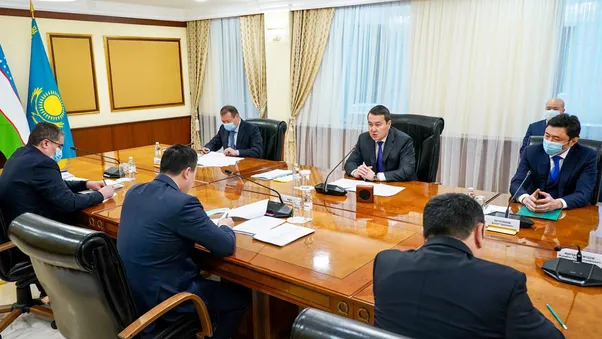 Mr. Smailov noted that one of the tasks is to eliminate bottlenecks in the transportation of products and administrative barriers in general.
"Entrepreneurs of our countries actively cooperate, so we need to help businesses in every possible way to launch new joint projects. We are ready to work together with you in this direction," he added.
The parties also talked about regional cooperation in the field of water management.
At the end of the meeting, PM Smailov signed the roadmap and handed it over to the Uzbek delegation. The document will be forwarded to the prime minister of Uzbekistan, Abdulla Aripov, for his signature.