Everyone who dealt with hotel overbooking during the holiday peak season in Kazakhstan knows that sometimes it's not worth the hassle as there is a high risk of going back to square one. Sometimes low-end hostels are not the option, and neither are plush hotels chains.
To deal with the problem, QazMonitor presents a list of Kazakhstan's hidden gem hotels and rentals for your perfect summer stay.
Ya Tut!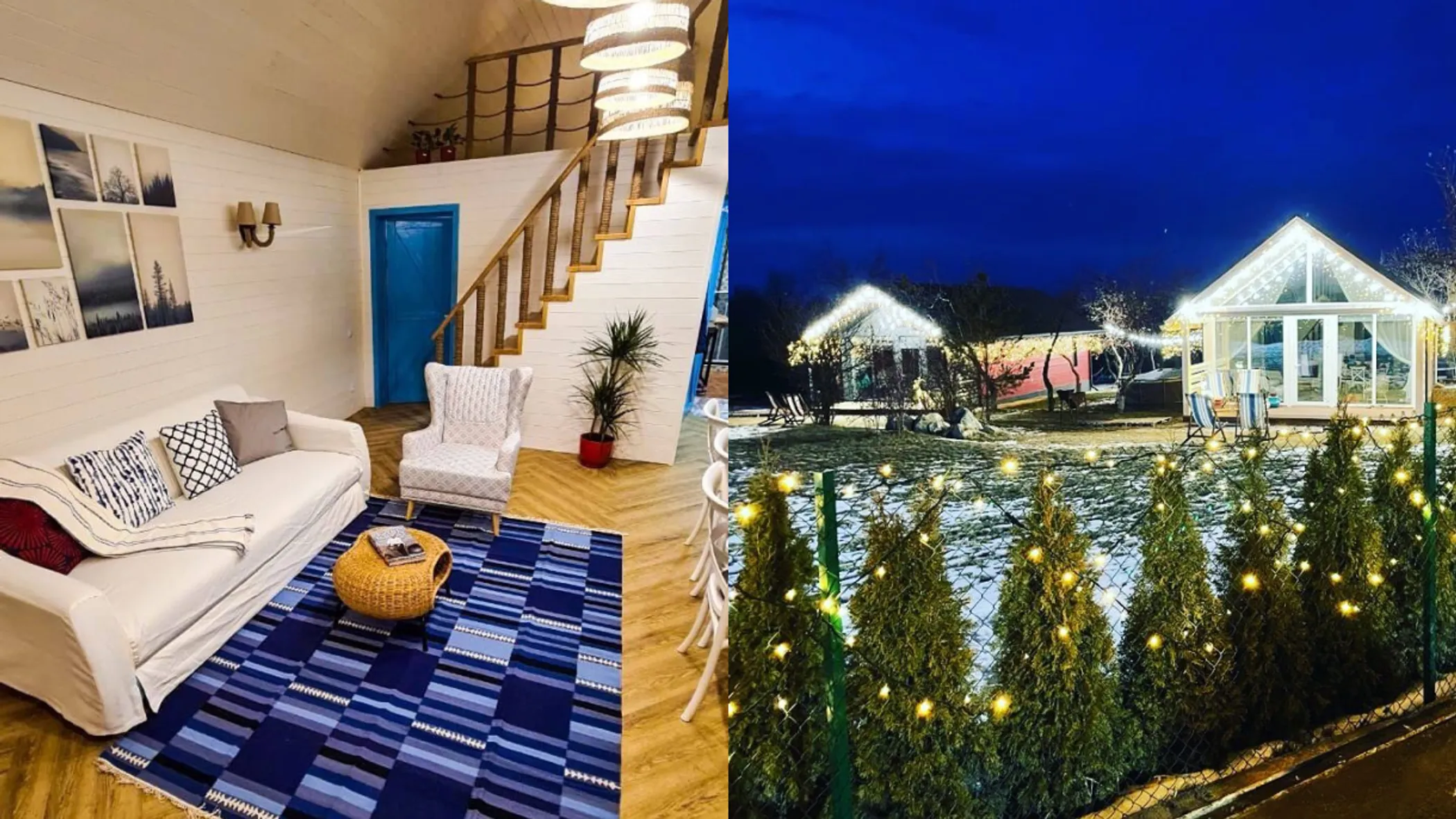 Ya Tut! [Я Тут!] straddles the line between glamping and holistic approach retreat. Once you hit it, it takes you to a different world. Beyond upscale Scandinavian style houses, the recreation facility offers guests to unwind in the Hobbit bathing complex – the designer's homage to Tolkien's legacy – to the sounds of magical Shaman's drum.
Location: Bokin st 3/1, Rysskulovo village, Talgar district, Almaty region.
Kolsay Nomads
Situated near the Lake of Kolsay, the hotel resort is an authentic place where visitors can enjoy the lake and surrounding mountains. Kolsay Nomads offers cottages, glamping and eco-houses to fully experience the mood of the local nature.
Location: Ultarakov st 5a, Saty village, Kegen district, Almaty region
7 Holmov
If you are the one seeking recreation in absolute privacy, in harmony with nature just 20 minutes away from Almaty, 7 Holmov [7 холмов] has you covered. The location provides three types of rentals: chalet-style Heaven House with sweeping views, Sky House maisonette with a rooftop terrace or loft-style Green House located in a pecan tree grove.
Location: Koigeldy batyr st 2237, Almaty
Tenir Eco-hotel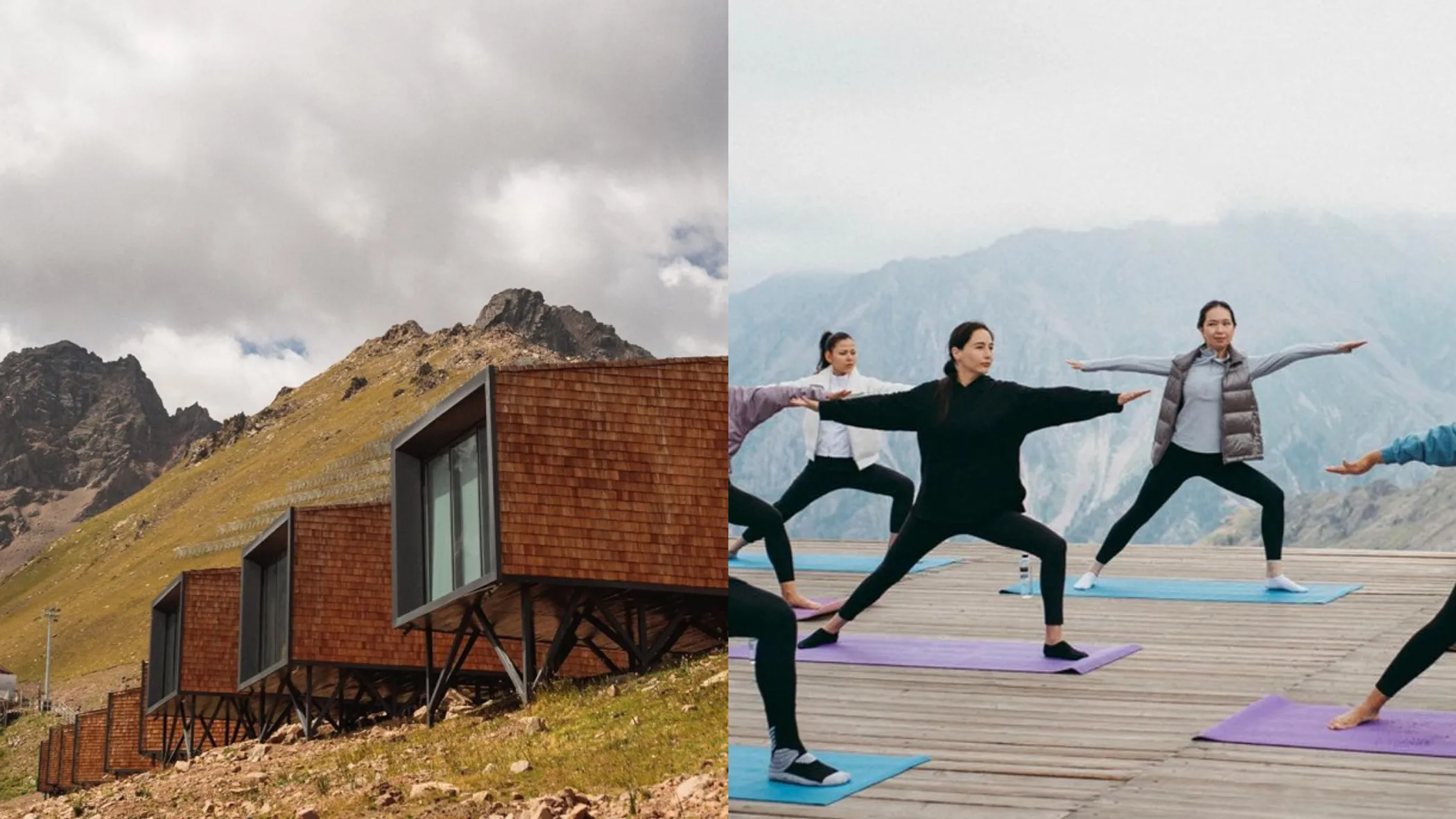 From paragliding and zipline to quad bikes and horse-riding expeditions – Tenir Eco-hotel boasts a variety of exceptional activities. Each 'ski-in, ski-out' eco-house is equipped personal sauna, wi-fi, Netflix and Marshall sound system and everything you need.
Location: Kerey Zhanibek Handar st 604d, Almaty
Villa Del Mamedich
Serenity reigns at Villa Del Mamedich. The rentals delve into immersive Alpine meadows vibes, thanks to the magnificent Ile Alatau mountain view.
Location: Tsentralnaya st 30, Kyrgauyldy village, Karasay district, Almaty region
The Veil Taste and Relax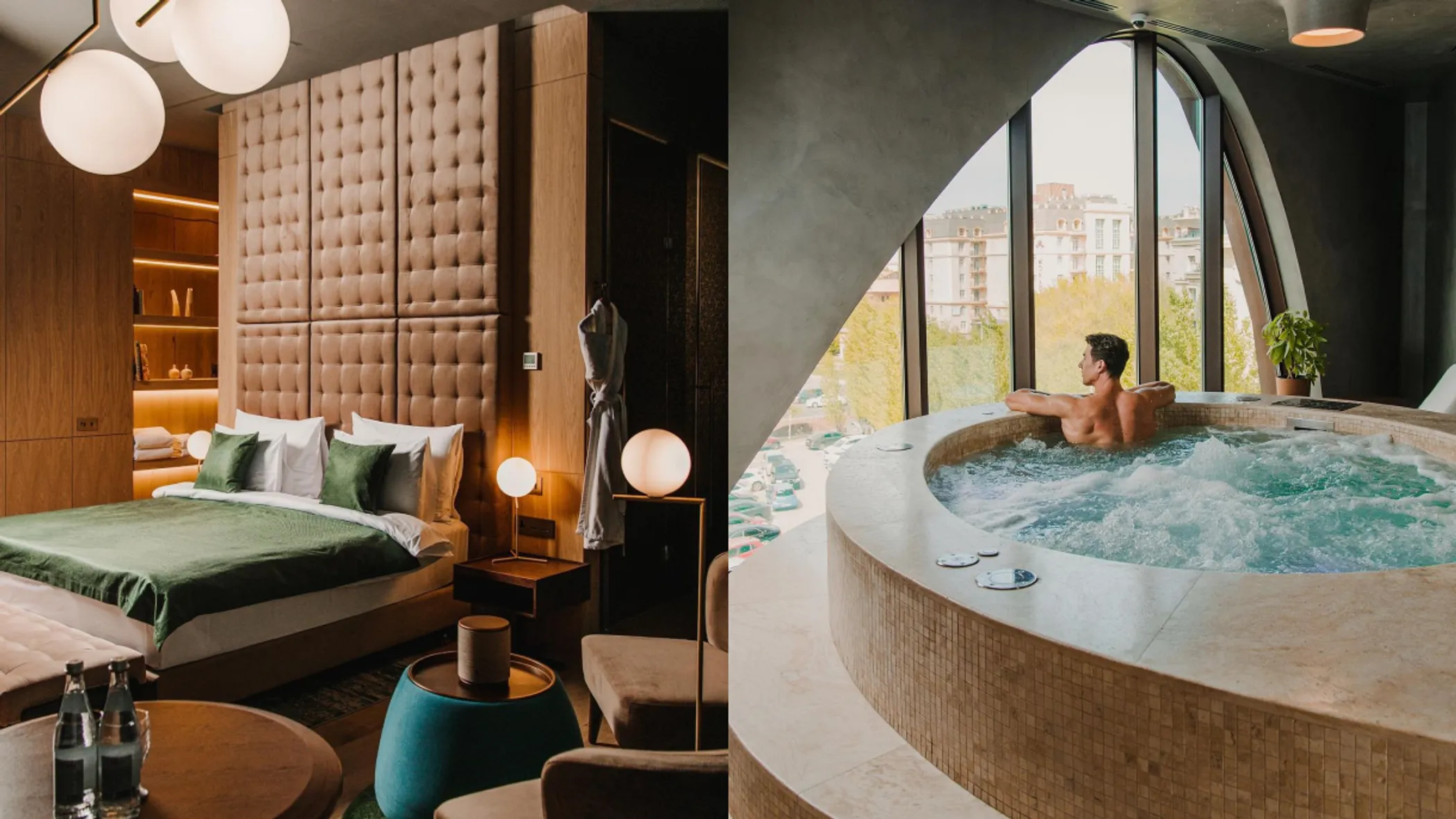 This boutique hotel instills tranquility and blissfulness. With a sleek design of visual distortions and smooth lines executed by Italian architecture studio Archea Assosiati, from exterior to furniture – everything is work of art here. The Veil Taste & Relax features four restaurants, a pizzeria, SPA and Wine Club Astana boutique.
Location: Zhalayiri st 4, Akbulak-3 microdistrict, Astana
Sulusai
Pass on crazy night outs in a city and opt for the ultimate digital detox at Sulusai rentals. The place offers high-end chalet, luxe and deluxe houses, and you can get the adrenaline going with tubbing experience. Besides, Sulusai's jaw-dropping views at every point are hard to top.
Loaction: Oi-Qaragai 1660, Talgar district, Almaty region
S.N.e.G Hotel and Restaurant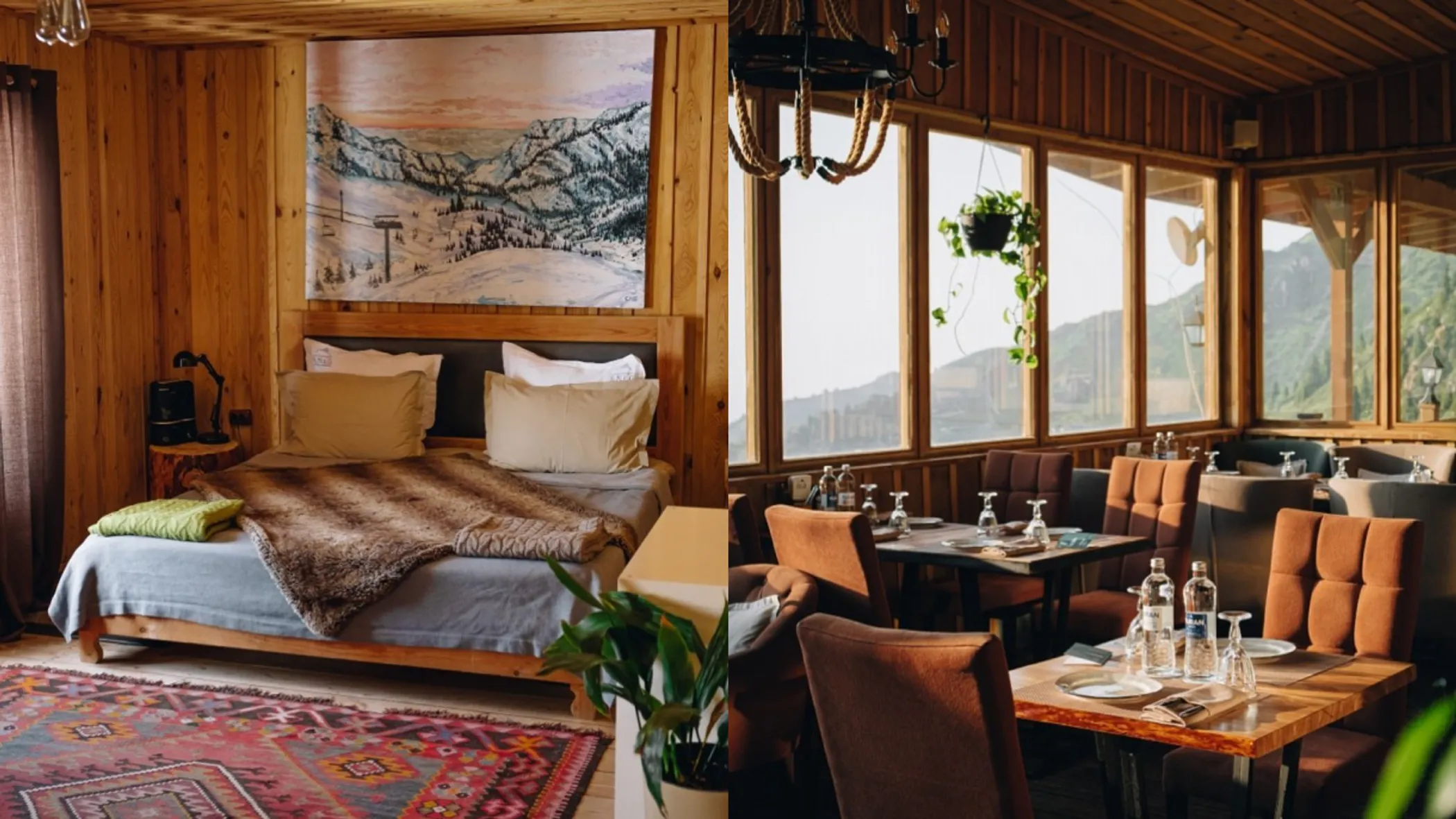 Tucked in the heart of the largest ski resort in Central Asia, S.N.e.G Hotel & Restaurant is heaven for mountain pilgrims all over the country. The boutique hotel was awarded Asia's Best New Hotel prize in 2016.
Location: Shymbulak ski resort, Almaty
Tau-tas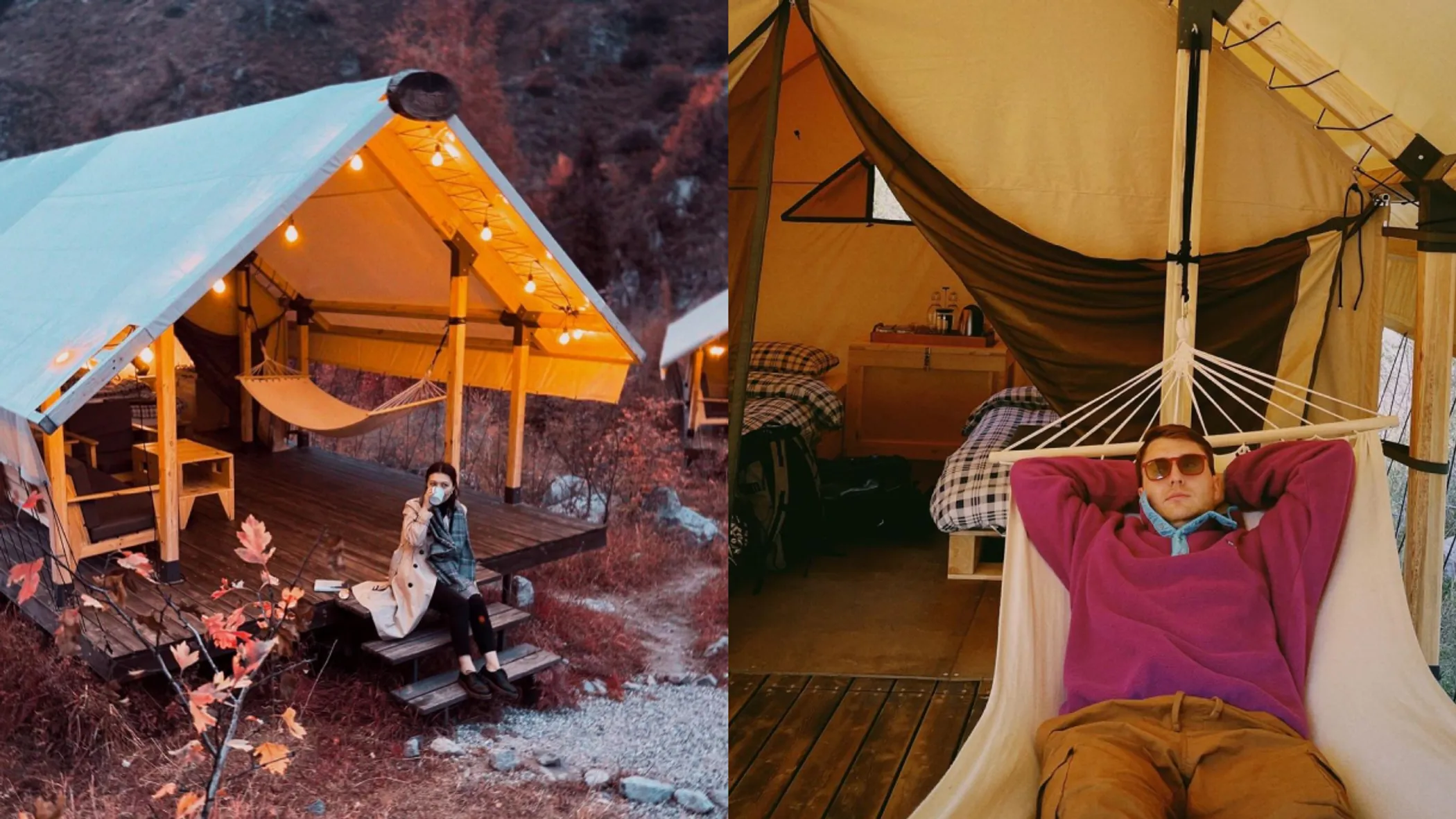 Nestled in lofty mountains, Tau-tas campsite has become the perfect place to escape Almaty's bustling vibes for a few of days. When you're not luxuriating in high-end cabins during the day or sharing campfire stories at night, you can embark on an Old Japanese Road or Big Almaty Lake guided tours.
Location: Kokshoky st 1v/1, Bostandyk district, Almaty
Aksay River Spa
The resort attracts both locals and tourists with its Saka baths and wood-fired saunas. The site features four unique houses, which blur the lines between countryside chalet and high-end suite experience.
Note: A return transfer and chef's speciality breakfast included in the price of your stay
Location: Aksay 890, Kyrgauyldy village, Karasay district, Almaty region
Tau House
Tau House is anything but an average glamping site. It features three elaborately designed two-storey barn houses that knock outdoor experience to the new level of luxury.
Location: Erubayev st 8/19, Karagayly microdistrict, Nauryzbay district, Almaty