Over the past few years, many Kazakh artists have been in the spotlight, both at home and abroad. Renowned for their exquisite work and vivid imagery, the new faces explore and deconstruct different facets of nomadic culture.
One such artist is Alua Tebenova from Karagandy. Her works have found acclaim among art lovers enjoying her exhibits at galleries in Romania. Alua is living in the city of Cluj-Napoca where she pursues her doctoral degree at the city's Universitatea de Artă și Design. Her passion for art has evolved into a powerful exploration journey into the deepest recesses of central Asian cultures.
QazMonitor reporter talked to Alua about her inspiration, what compelled her to express her identity through art, and what it's like to be a Kazakh artist in Romania.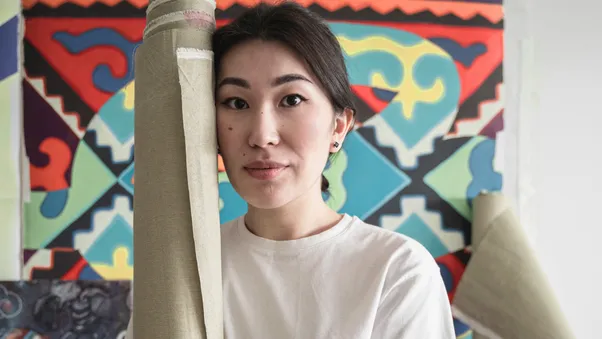 Art that comes from personal experience
What ignited your creativity?
When I came to Romania for my master's degree, the topic of thesis was "The Nomad Woman". Essentially, it was something more personal, concerning me and all the women from our country.
It transformed into something bigger, and now it's not just about Kazakhstan, but Central Asia as a whole. It grew from the image of an individual woman to an entire ethnic community. I no longer write just about central Asian cultures, but take a bit from each culture and transform it into a painting.
Where would one have to start to get acquainted with your art?
I can't say that there's one painting that represents me. I believe I have a total of ten different series of paintings. Some are decorative, while others are realistic and more figurative, depicting headdresses or portraying women.
For example, Kilem has become like my own 'trademark'. It received a lot of attention – a bright 2D painting that conveys two different worlds.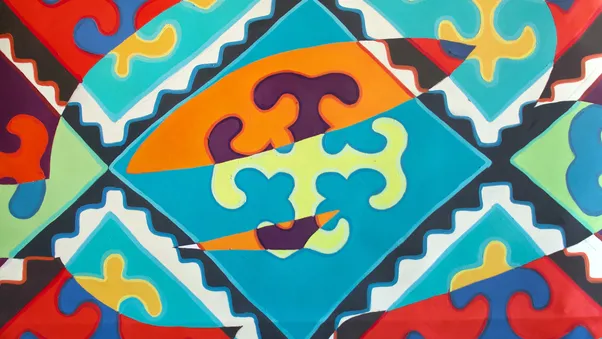 Among other paintings, it's probably Kimishek that recently went viral on Instagram. Originally I didn't intend for it to be the main art piece in the Headdresses series, but people began actively reposting and commenting on it.
Art before money
Do you monetize your art?
Initially, I was afraid, because I had no experience and lacked the necessary knowledge. I slowly realized that even the Golden Age artists had certain clients for whom they were doing commissioned works.
I haven't set it as my main goal, but art commercialization isn't inherently bad – it's like a [regular] job that people make a living of. Since last year, I've just learned how to work online, collaborate with galleries, find buyers, and how to sell and present my works.
There are artists [whose careers] I take as references. It helps to dissipate fear and doubts.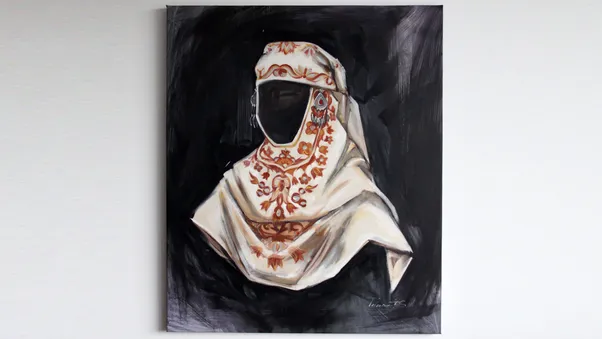 We noticed that some buyers use your paintings as part of interior design?
There was a case where one woman redecorated an entire room based on my painting that she bought. She bought a sofa to match the painting and ordered a carpet in a distinct Turkic style and a frame to go along with it.
If we're talking about Instagram and social networks, it would probably be Kazakhstan. In terms of galleries and exhibitions, it would be mostly Romanian and European audience, people who live in the same city where I live, Cluj-Napoca.
I put all the effort to the painting itself, but how it will look in the interior depends on the person who acquires the work.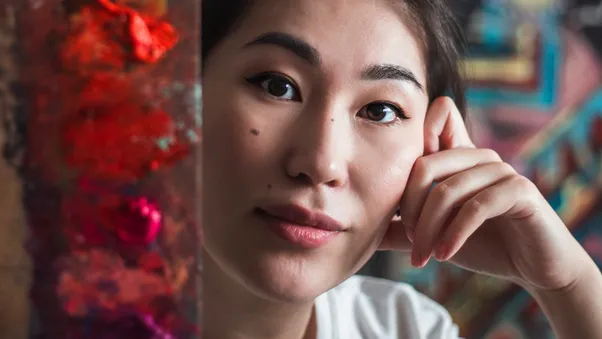 Where have your paintings found more popularity?
People from Kazakhstan, Romania and other countries [buy my paintings]. The same can be said about my Instagram subscribers, they comment, and leave reviews and feedback from all over the world, from Turkiye and from Europe.
Staying true to the identity
Is it easy to be a Kazakh artist in Romania?
Romania is not as open to art as, say, Italy or France, but there are a lot of private galleries and art centers that are open to young artists.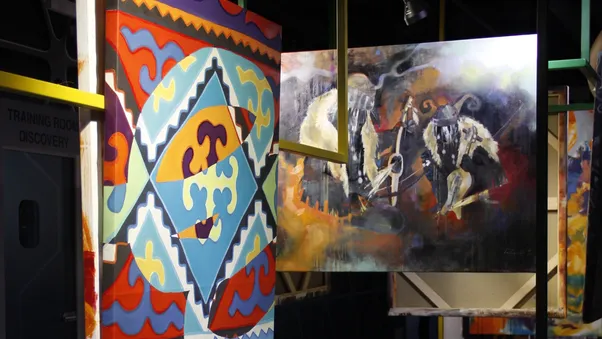 It's a bit difficult for me in the sense that I don't really fit the format. Here it's more about contemporary art and my works are geared toward Central Asia, so they don't exactly match some exhibitions. But it's also my choice, I don't want to mimic other artists; our cultural backgrounds are also different.
Has living away from Kazakhstan influenced your decision to base your paintings on traditional culture?
I think so, yes. When I was learning Romanian in my first year of studies, I met a lot of people from different countries. Naturally, we knew nothing about each other – what our countries are like in terms of culture and background.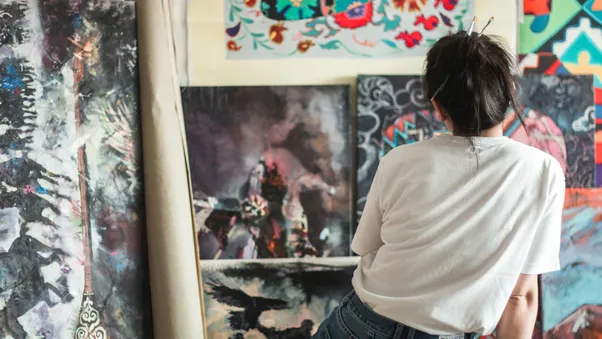 We knew only the things that we could see and a lot of people assumed certain stereotypes because I'm Asian.
Moments like that prompted me to express my identity through art. It's something that I could do and that feeling gave me the final push. You start to dig and explore your culture: "Why are things the way they are?" All of it pours out onto the canvas, as I want to build the whole picture for everyone else to explore.