Kazakhstan's Norah Jeruto ends Day 6 of the World Athletics Championship with a bang as she became the first Kazakh athlete to win a world outdoor track and field title, Qazmonitor reports.
The Kenyan-Kazakh runner won the gold model in the women's 3,000-meter steeplechase finals held in Oregon on July 21 (Kazakhstan Time). Her record at 8 minutes 53.02 seconds turned out to be the third-fastest time in history.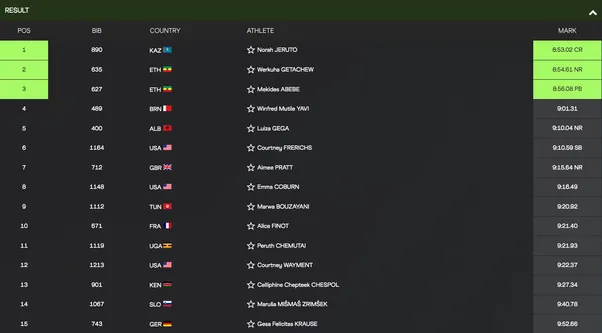 Her sports rivals, whom she mentioned before the final race, Bahrain's Winfred Yavi, USA's Emma Coburn and Uganda's Peruth Chemutai, came 4th, 8th, and 11th, respectively.
Silver and bronze went to Ethiopia's Werkuha Getachew and Mekides Abebe.
"The weather was good here. I enjoyed my race today," Jeruto said. "At the starting line, I was afraid of my friends from Ethiopia. They are also champions like me so I was scared of them. I tried my best to win the race and it was not easy. It was tough."
The champion celebrated her victory after the race in the only way possible on a particularly hot day - with a pool party.