A 35-year-old Kazakh traveler Damir Kusheyev made an unusual journey by bike from Seoul to Busan. @damir_za_mir_almaty rode a total of 800 kilometers.
Why South Korea?
'Because this year on January 28, Kazakhstan and Korea celebrated the 30th anniversary of the establishment of diplomatic relations. The second reason is that Korea erected a monument to our great poet Abay Kunanbayev. The third reason is that Korea is the only country that has an 800 km track from Busan to Seoul. Also, a consulate of Kazakhstan soon will be opened in Busan.'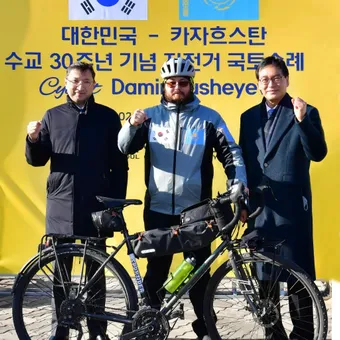 Difficulties along the way
According to Damir, the distance was not easy to cover. He encountered wild animals, he was running out of food, the water was freezing, and he spent nights in a tent in the open air. But, in large cities, the residents welcomed him with all honors.
Sightseeing
In Daejeon, a guard of honor was stationed to greet the traveler. In this city, he visited the grave of the Korean hero Hong Beom-do, whose remains were brought from Kyzylorda in August last year.
'We are grateful for the donation of the ashes of Hong Beom-do. He is the hero of the struggle for the independence of Korea and the person who contributed to our country being the way it is now. Many citizens come here to honor him,'
said Park Jong Dae, a memorial complex worker.
Sister cities
'We intend to sign an agreement on the establishment of sister-city relations with Kyzylorda. The Kazakh delegation will come with a visit on March 1. Now we are preparing to conclude cooperation agreements,'
added Kang Jung Wan, spokesperson for Daejeon Mayor's Office.
It is estimated that 100,000 ethnic Koreans still live in the territory of Kazakhstan. The presence of these ethnic Koreans helps to strengthen ties between the two countries. The number of Kazakhstan's citizens residing in South Korea boosted from 3.000 people in 2014 to 22.000 in 2019, whilst in 2021 the number reached around 30.000 people.
Abay songs in Korea
The cyclist also visited Hankuk University, the only university in Korea where the Kazakh language is studied. The students sang the song of the great Kazakh poet Abay, especially for him. During the trip, Damir gave Kazakhstan chocolate to South Korean residents. He carried the national flag through the whole country.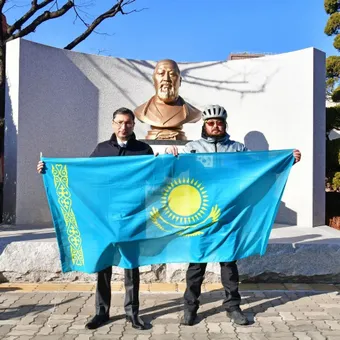 Future plans
The bike ride ended in Seoul near the monument to Abay Kunanbayev. But Damir Kusheev's foreign travels did not end there.
'I set myself the goal of driving through all those countries with monuments to the great Abai Kunanbaiuly. There are more than 10 such countries. And the two countries I visited are Turkey and Korea. Eight countries left,'
the traveler shared.