According to the Eurasian Development Bank (EDB) report, Kazakhstan accounts for the 24.3% share of mutual foreign direct investments (FDI) among the Commonwealth of Independent States (CIS) in the first six months of the year, QazMonitor reports citing the EDB's press service.
The bank monitors mutual direct investments of CIS countries and Georgia through the database called Monitoring of Mutual Investments. The database keeps track of investments made through offshore structures, distinguishing it from national agencies' and international organizations' statistics.
The analysts note that in mid-2022, Eurasian Economic Union (EAEU) countries' mutual FDI was estimated to be around $24.5 billion. Those figures are said to be provisional and the researchers note that the active investment base has shrunk due to Russian investors withdrawing from some of the neighboring countries.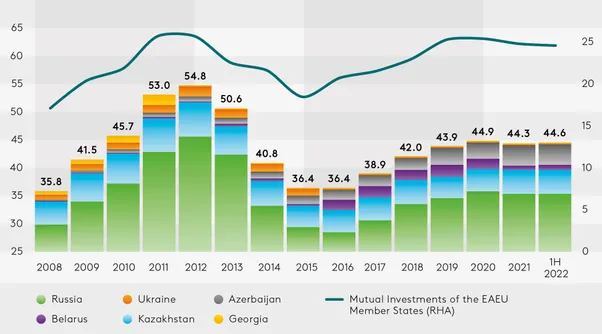 Russia is still the largest investor in the region with 79.2% of the total mutual investments among CIS countries. It is followed by Kazakhstan and Azerbaijan with 9.5% and 8.4%, respectively.
In addition to holding the largest share of FDI, Kazakhstan accounted for 53% of Russia's investments in the Eurasian Union and 30% in the Commonwealth. Coincidentally, Kazakhstan's largest investment pool is in Russia. The country also enjoys the spot of being the CIS' Top-5 investments destinations along with Uzbekistan, Belarus, Azerbaijan and Armenia.
Russian multinational energy corporations Lukoil and Gazprom account for more than 40% of the mutual FDI stock in the CIS states. The stock's sectoral structure varies in the EAEU and CIS.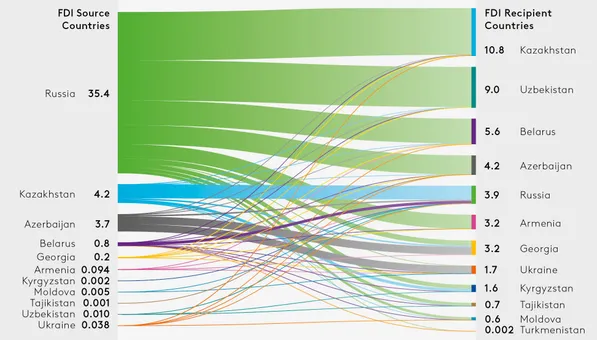 The Extraction of Oil and Natural Gas accounts for 24% of the FDI stock in the Commonwealth but ranks fourth in the Eurasian Union. The EAEU's top investment sector is the Mining of Metal Ore worth 19.5% share along with the Financial Services accounting for 12.4% of mutual investments.
The region's leaders in the banking sector investments are Sberbank, VTB, Gazprombank and Alfa Bank.
The analysts point out that mutual investments of the region with neighboring China, Iran and some of the most developed Arab states could significantly grow. In the first half of this year, the volume of Chinese FDI in the twelve post-Soviet countries exceeded $67.5 billion, in particular, the increase for the EAEU was 8.1%. Iran's investments in the Commonwealth reached $1.8 billion.
EDB's chief economist Evgeny Vinokurov highlighted three key investment trends among the Eurasian Union countries. He pointed out that mutual investments in greenfield projects are a long-term trend citing the 1.6 increase over the past six years amounting to 32% of all investments.
During this period there was also an increase in the total volume of private investment by almost 1.3 times. In mid-2022, private investors accounted for 56% of mutual investments in EAEU countries. In addition, the analyst argues that although transboundary green investments hold great potential, their absolute volume is still insignificant.