In a world ​​where we are more plugged in than ever before, glamping has become another way of digital detox and reconnecting with nature. However it's not all about traditional glamping dome houses here in Kazakhstan. From yurtas and A-frame houses in the Ile Alatau mountains to bungalows in the sandy terrain of Mangystau region – you can choose from an array of ethereal spots.
Here's QazMonitor's guide to top glampings in Kazakhstan that should be on every traveler's list.
Teniz Village @teniz.village
Located by the Caspian Sea, Teniz Village is a unique destination for travelers seeking a luxurious outdoor experience. It comes as a surprise to learn that the glamping bungalows, leading straight to the beach, are only 39 km from Aktau. The place offers a wide range of activities including supsurfing and kayaking.
Location: 39th km Northwest, Aktau, Mangystau region
Scout Glamp @scoutglamp
With a hefty background in scouting and scout camping, the company became one of the best family-friendly destinations in Akmola region. You can embark on a scout programme with your kids, or give it a try at a climbing wall zone. Scout Glamp features a variety of lodging, ranging from safari-tents to two-storey all-glass houses with heating facilities.
Location: 120 km from Astana, short of Ernazar village, Akkol district, Akmola region
Orbita Glamping @orbita_glamping
Orbita Glamping offers a unique outdoor experience for those who dream to wake up to the amazing view of pinewood forest at Burabay National Park. There are 7 comfy dome-houses, each representing a particular planet of the Solar System.
Location: 25 km from Shchuchinsk, short of Zhukey village, Akmola region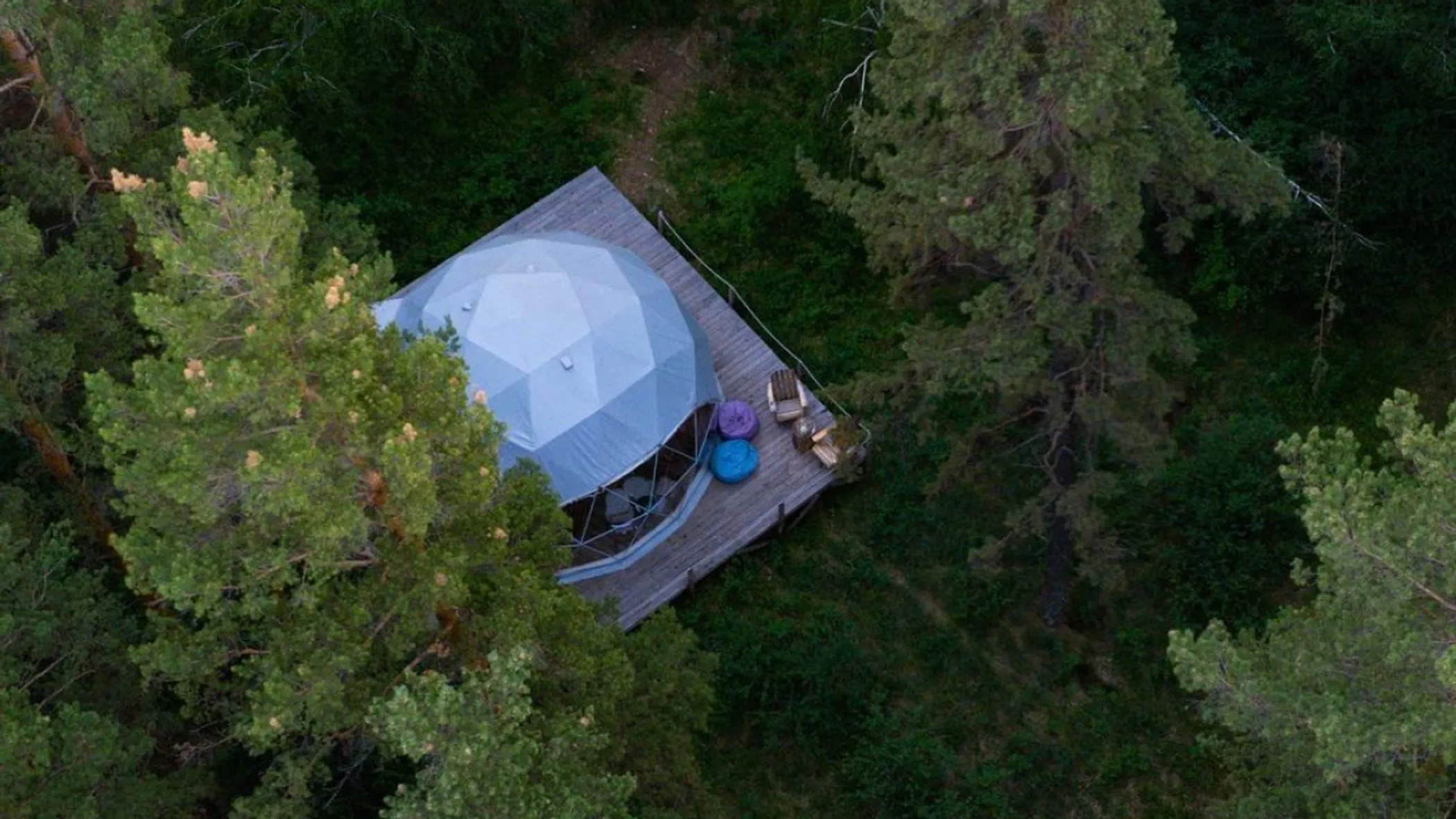 Vivood Tau @vivood_tau
Vivood Tau is another recent addition to the Kazakh glamping landscape, where you can practice equestrian sport and traditional archery. Situated in Sairam-Ugam National Nature Park, the place features a variety of accommodation options: modern square-shaped cabins with panoramic view, futuristic glamping domes or nomadic style kyiz yuis (felt houses).
Location: Sairam-Ugam National Nature Park, Tole Bi district, Turkestan region
Eco Glamping Burabay @eco_glamping_burabay
This is a place where wildness intertwines with comfort and the salubrious air of Burabay. Indulge yourself with a traditional wood-fired sauna and the best Georgian cuisine dishes at a local restaurant.
Note: The policy of the company prohibits bringing your own food and beverages onto the premises
Location: Southwest shore of Lake Shortandy (Shchuchie) 2a, Burabay district, Akmola region
A-Glamp @aglamp.kz
A-Glamp is a must-visit spot for nature devotees. Its singular aesthetic would immerse you into the Scandinavian atmosphere within the ambience of Ile Alatau mountains. A-frame houses have a modern chalet vibe while Scandi-style cabins provide a more classic feel with a fireplace. The team focuses on unique guest experience, and unlike most glamping sites, offers a transfer from the city.
Location: Michurin st 1152, Besqaynar village, Talgar district, Almaty region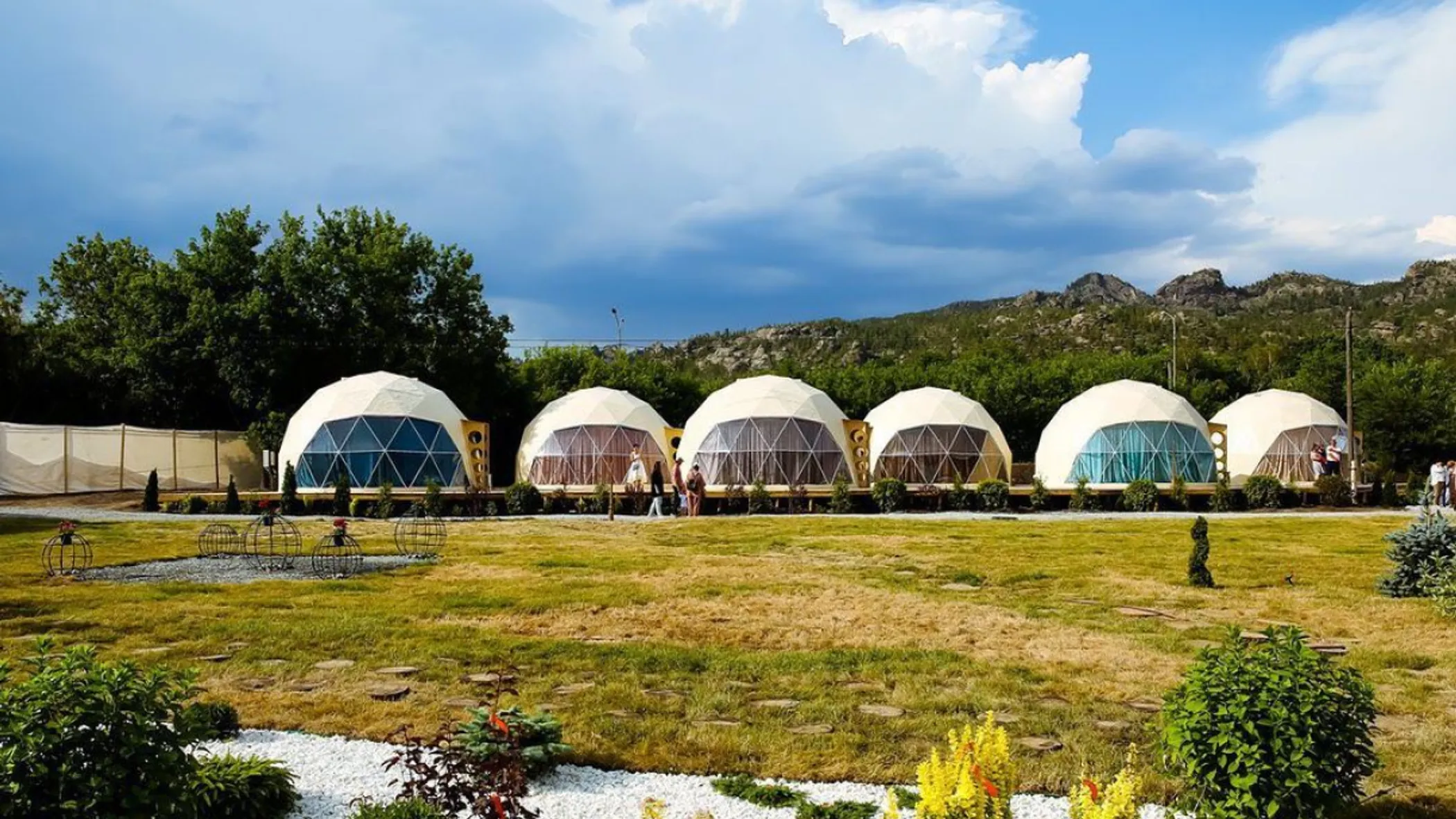 Ivy Village @ivy_village_jasybay
The peace and serenity awaits guests in the Ivy Village. This exceptional retreat, situated on the fringes of unique Bayanaul National Park, redefines the concept of glamping, combining world class hospitality and conservation area. There are fully equipped six glamp domes and two cottage houses with five bedrooms.
Location: Bayanaul National Park, Zhasybay Resort, Pavlodar region
Heaven Glamping Almaty @heaven.glamping.almaty
Heaven Glamping Almaty became another outdoor escape from the bustling Almaty vibe, as it's located just 20 minutes away from the city. There are two dome options available for booking: Elbrus with majestic mountain view and Everest with a one-of-a-kind city view.
Location: Ainabulak Horticultural Community ⅗, Almaty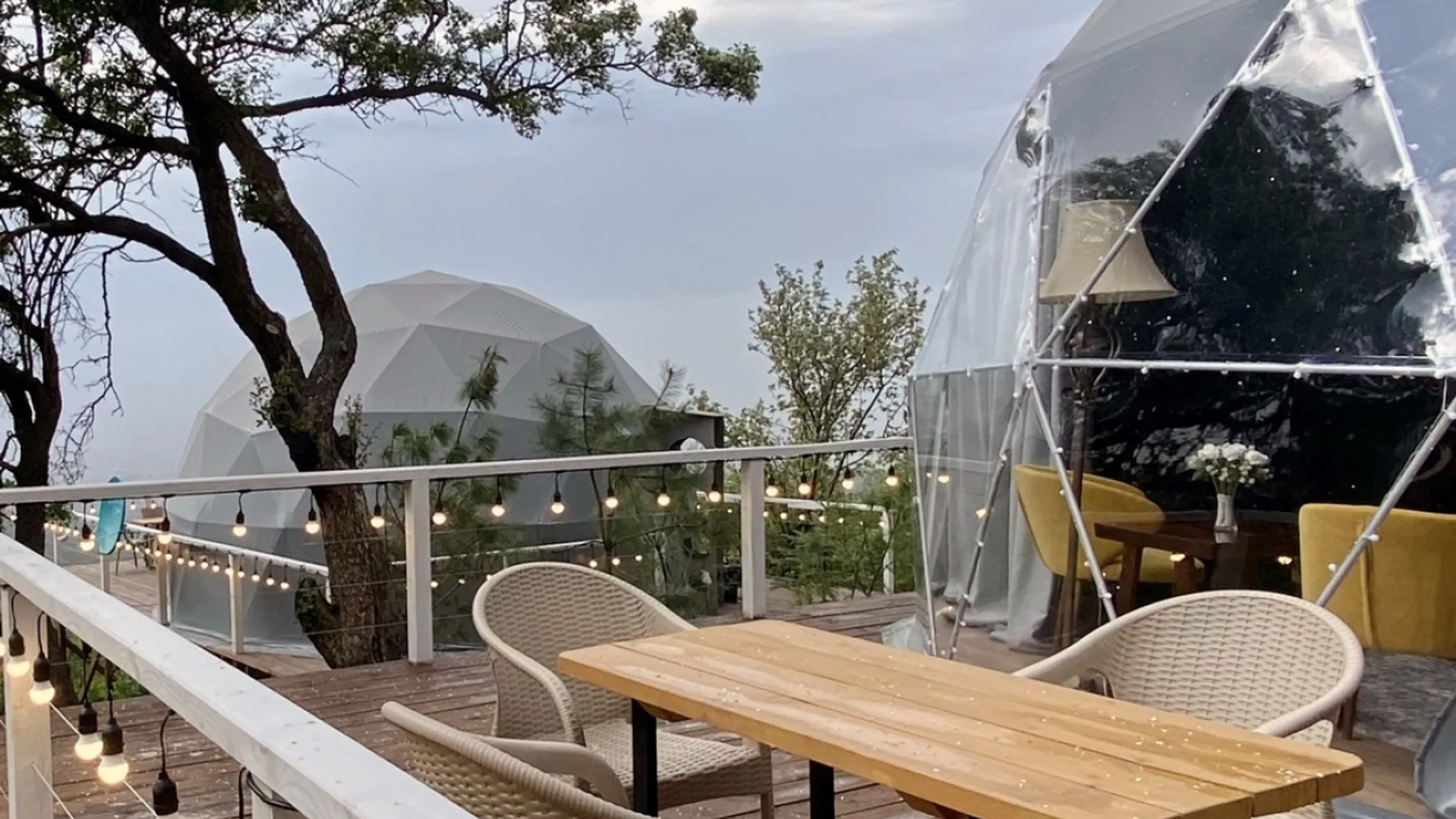 Eco Glamping Zharkynkol @eco.zharkynkol.vko
This is the perfect place to take a break from everyday city hussle, unwind and feel the freedom of wilderness. The glamping site is known for its lake Zhemchuzhina [Pearl – QM] , the hot spot for fishing enthusiasts.
Location: short of Zhantas village (Asubulak village), Ulan district, East Kazakhstan region
Bolshaya Medveditsa @greatbear.kz
Bolshaya Medveditsa is a glamping site of high comfort, located at a 40-minute drive from Almaty. The glamp site's high-profile services like Saka baths and jaw-dropping mountain views would add some thrills to your weekend getaway.
Note: Breakfast is included in the price of your stay
Location: Momyshuly st 1354, Baybulak village, Talgar district, Almaty region