Gulsim Abikenova, 67, is a flight attendant from Kostanay with over 40 years of experience. Her life-long achievement is holding the record for the longest serving stewardess in Kazakhstan, QazMonitor reports citing Nash Kostanay.
Not only is Abikenova's story inspiring for everyone who dreams of the skies, but it's full of surprises. Who knew that the seasoned professional had never even dreamt of this job when she first joined. We could have seen Abikenova on the big stage as an actress, if not for one incident.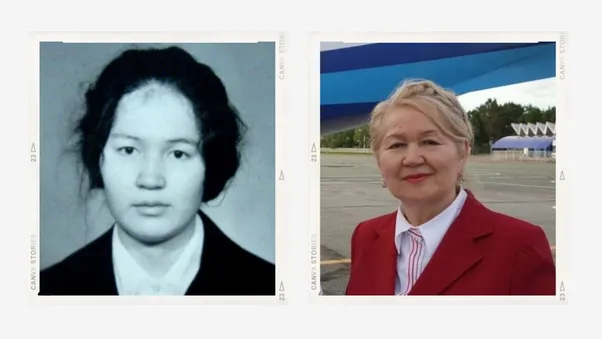 Young Abikenova applied to the Russian State Institute of Cinematography, but during the second stage of admission, she fell ill and could not take the exam. Sometime later, she came across a job advertisement for a flight attendant. The woman applied, passed the audition, and received a medical certificate deeming her "fit" for flying. After passing the application process, she was sent to the academy of flight attendants of civil aviation in Almaty.
"We never stop learning to this day. We constantly take specialization exams since it is necessary to be totally prepared for any situation. Our job is not as easy as it seems from the outside. A flight attendant has to provide comfort, and most importantly, passenger safety. The responsibility is enormous but we must always remain calm and friendly. You have situations where, for example, something makes a thumping sound in the plane and a hundred pairs of panicked eyes stare at you - you just have to smile at them, saying all is fine, and they immediately calm down."
Gulsim Abikenova
The flight attendant says she wasn't really drawn to the skies during her childhood. It was thanks to the excellent staff and kind passengers that she was able to fall in love with her profession.
"I started my career at Kostanay aviation enterprise. It was a friendly, close-knit team of competent people. On my first flight, I was definitely nervous, but I felt lucky since I had an experienced coach by the name of Valentina Sitchenko with me. We flew on the TU-154. There were flights to Germany, and Turkey - those were the longest flights. Also, we flew all over Russia, Ukraine, and Belarus. Thanks to this work I saw so much, I am so happy that I got a ticket to the sky", said the stewardess.
In 1983, she was awarded the medal "For Valour in Labour" and in 1984 her name was added to the civil aviation book of honor. Even though retired, the stewardess flies to this day.
"I was lucky with my health, my vitals are excellent, my blood pressure is 120 over 80, so I have a license. I am continuing my activities in the aviation company where I teach and train flight attendants and give exams. Young people today are very smart and talented, it is interesting to work with them. There are a lot of people who want to become flight attendants, but their health fails them. Our generation was much stronger physically," Abikenova noted.
According to Guinness World Records, the longest career as a flight attendant is 64 years and 61 days and was achieved by Bette Burke-Nash (USA), verified on January 4, 2022.
QazMonitor editorial wishes Gulsim Abikenova the best of luck in beating this record.