A love for art may have etched Zhaidarbek Kunguzhinov's name into the history of Kazakh circus arena, but it was his passion for driving the edge of a knife that made him push the limits of his body and mind, upending the notion of world class stunt work.
At first, as a field development engineer, he wasn't sure where he stands careerwise. But later the voice of his heart and the call of the blood led him to cut his teeth in dozens of block-buster films and establish him as the alpha of Nomad Stunts.
With a career spanning more than 20 years, numerous awards, including the most prestigious 'Stunt Oscars' – the Taurus World Stunt Awards, – and countless high-risk feats conquered, he still enjoys flirting with danger, resurrects off horse riding techniques of steppe-dwellers and revives combat skills of nomad warriors to drive the action on set. Zhaidarbek's action credits range from big local productions such as Myn Bala and Tomiris to major Hollywood action movies including 47 Ronin, The Expendables 2 and Disney's Mulan, to name a few.
QazMonitor sat down with the Honored Artist of the Republic of Kazakhstan to talk about how driving an edge of a knife became something that also keeps him at a cutting edge of stunt performance.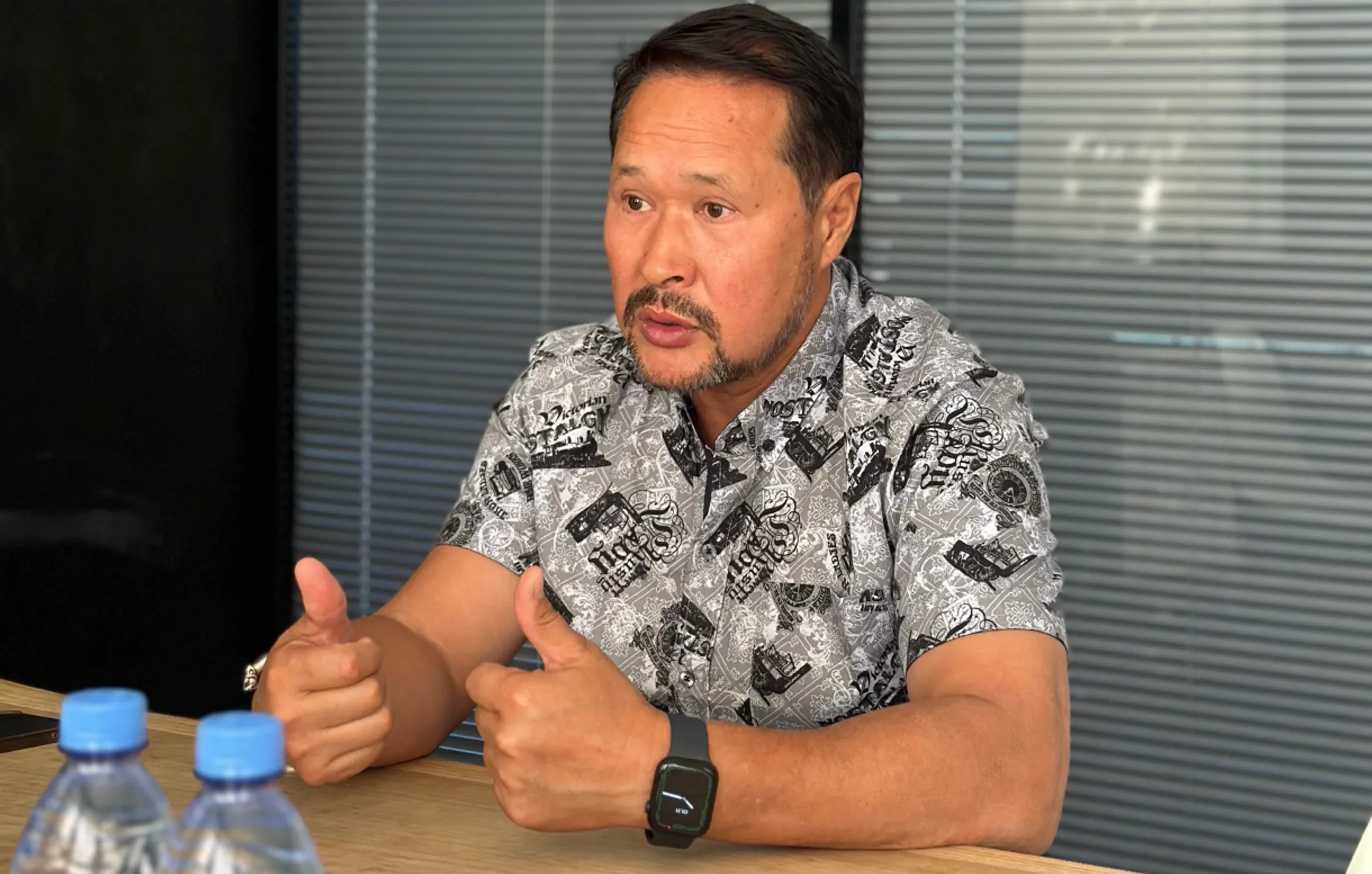 Your career path is anything but run-off-the-mill. What factor influenced your choice of profession?
I was born and raised in a village, riding horses, practicing swordplay, crafting archery bow and arrows. This was the aspect of my life that ignited passion within me the most. So when I graduated from university, I realized that I was unlikely to pursue my profession. I gravitated towards more extreme forms of self-expression, which stretched beyond sport, settling into a form of art.
When I was 18, I could envision what I wanted, but had no idea how it all would work out. After I completed my military service I got really lucky – my elder brothers, who were circus performers touring in the US, South Africa and Canada at that time, invited me to the circus and gave me a chance under one condition – I had to learn the ropes of equestrian acrobatics and vaulting.
Later after major achievements in circus I realized that I needed to go further. I had bursting energy, I wanted more. And this was the moment stunt work lured me away. I quickly got into it. It resonated with me a lot. Yes, I have had a fair share of injuries and bumps, but this was what I chose. I think the fact that my family kept horses, engaged in sports, and admired art significantly impacted my career choice. It all starts with the family. It set a seal on my life.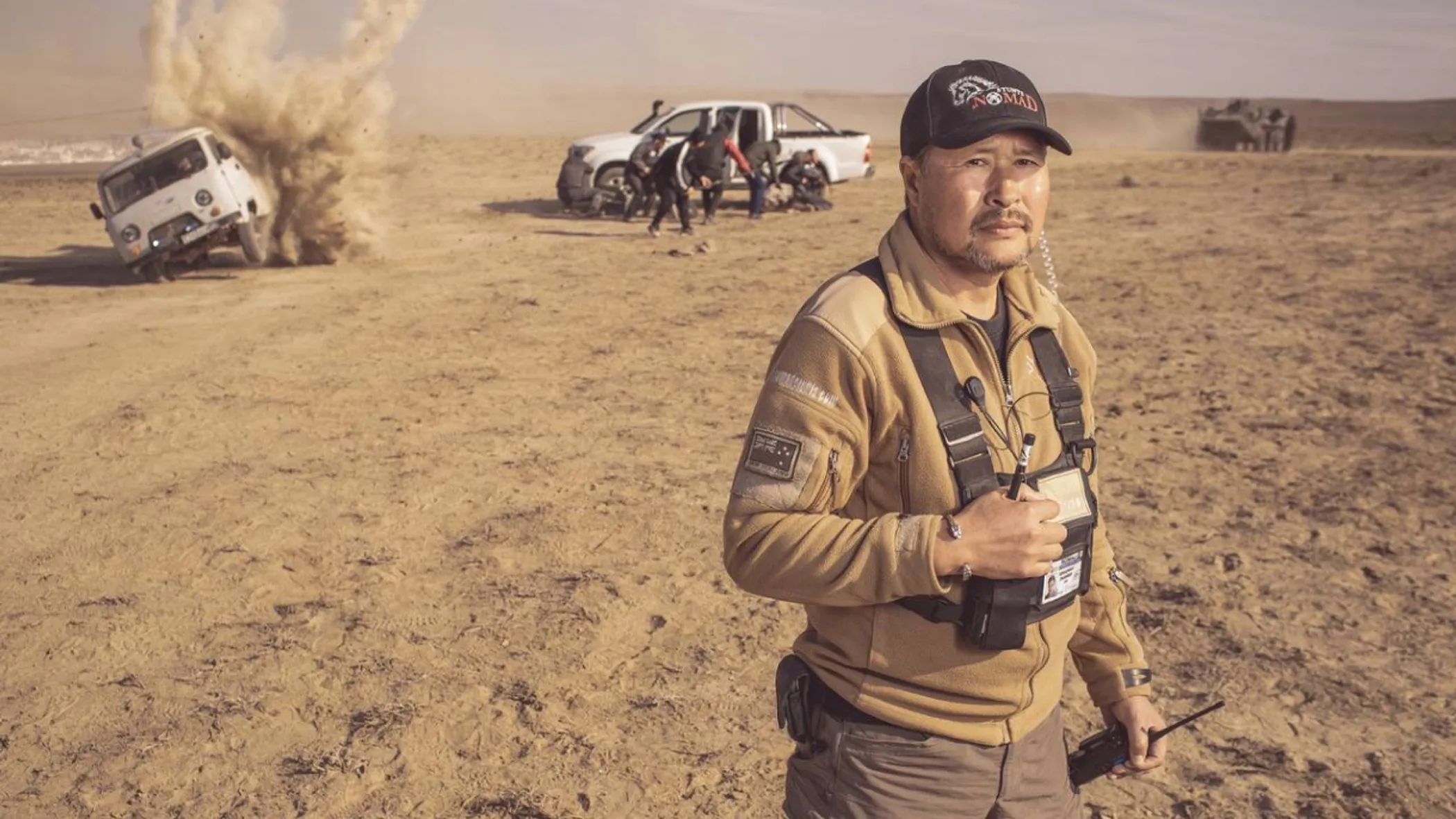 Fear is a basic yet innate emotion. How do you manage to control the fear of your team, let alone yours?
Fear is crucial as a self-preservation tool. I should admit, nowadays I mostly fear for my crew. But there shouldn't be any doubts at all just before executing a stunt. No overthinking, no hesitation.You need to think everything through and calculate the risks beforehand. Well, you basically have to conquer your fear. When it comes to my team or horses, it's important for me to have a way of instilling calm. Especially in our line of work.
Well, I face my own fears, too. I acquired claustrophobia after Mongol movie where I doubled Asano Tadanobu. I was running around in a mask and at a certain point I just couldn't get enough air. I've been claustrophobic ever since. I started fighting it, stirring it up from time to time in a safe manner. You never know what's gonna happen tomorrow – I might get trapped in a car or under a collapsed building. I have to be ready. The same happened when I tackled an underwater stunt at the depth of 40 meters for the first time in my life within the Marco Polo project. For a second the panic took over me, but I managed to regain self-possession.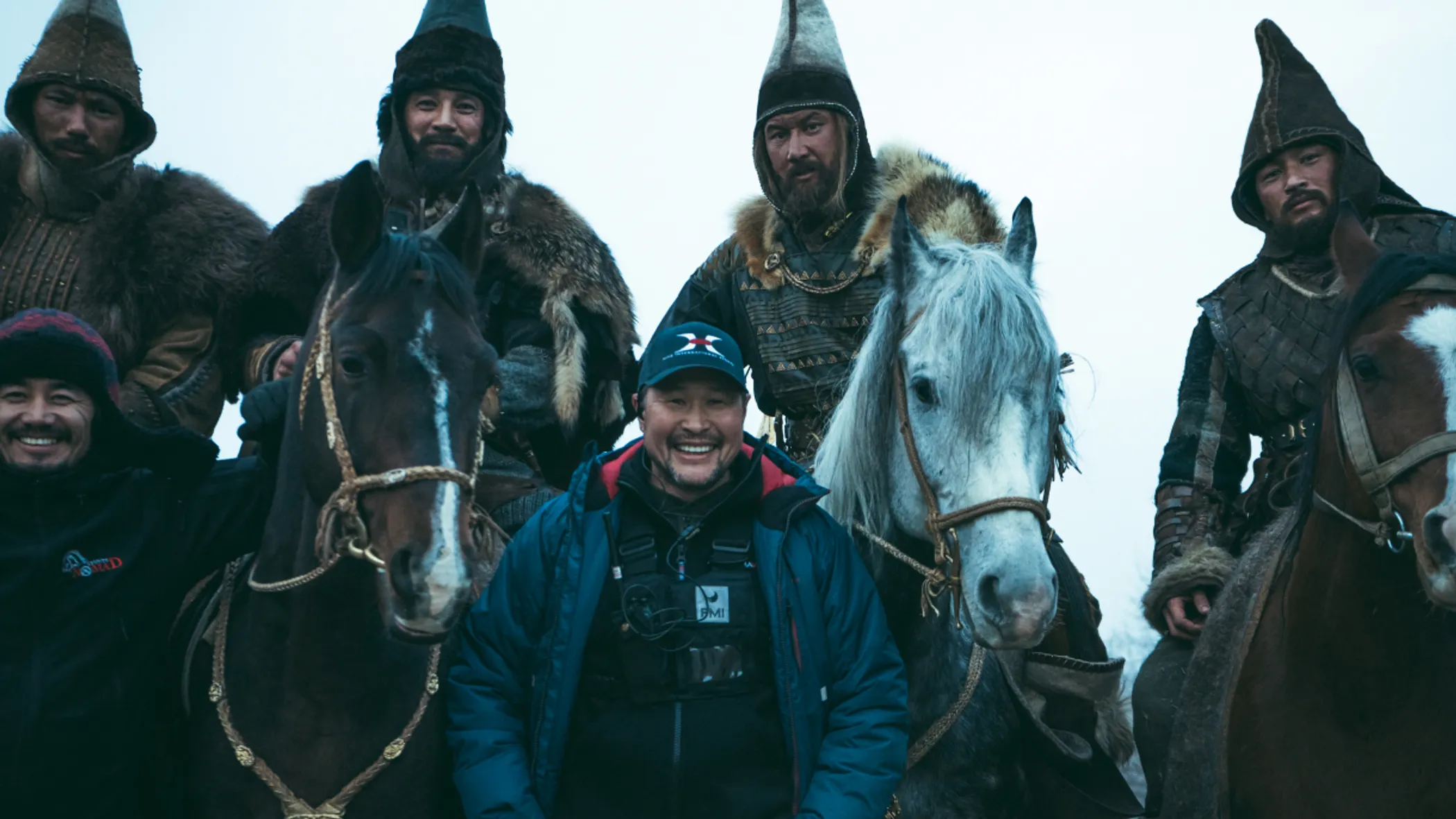 You always push yourself to the limit, raising the bar…
You know, progress is the key. You have to evolve and learn all the time. I try to pick up something new everywhere I work, whether it is England, New Zealand or Ireland. Of course I upgrade it to make it more 'Qazaq style'.
For example, I worked a lot with Spanish people and saw how they prepare horses. It's top class! We had a knack for horse falling stunts, but didn't know the insights of horse preparation 10-12 years ago. I learned the trick of it, and now we can do this within a month, while it takes approximately 3 months for them to train a horse. I mean, we didn't take it to a new level, but we accelerated the process. This skill tremendously helped us to work under pressure of time in the course of filming Mulan.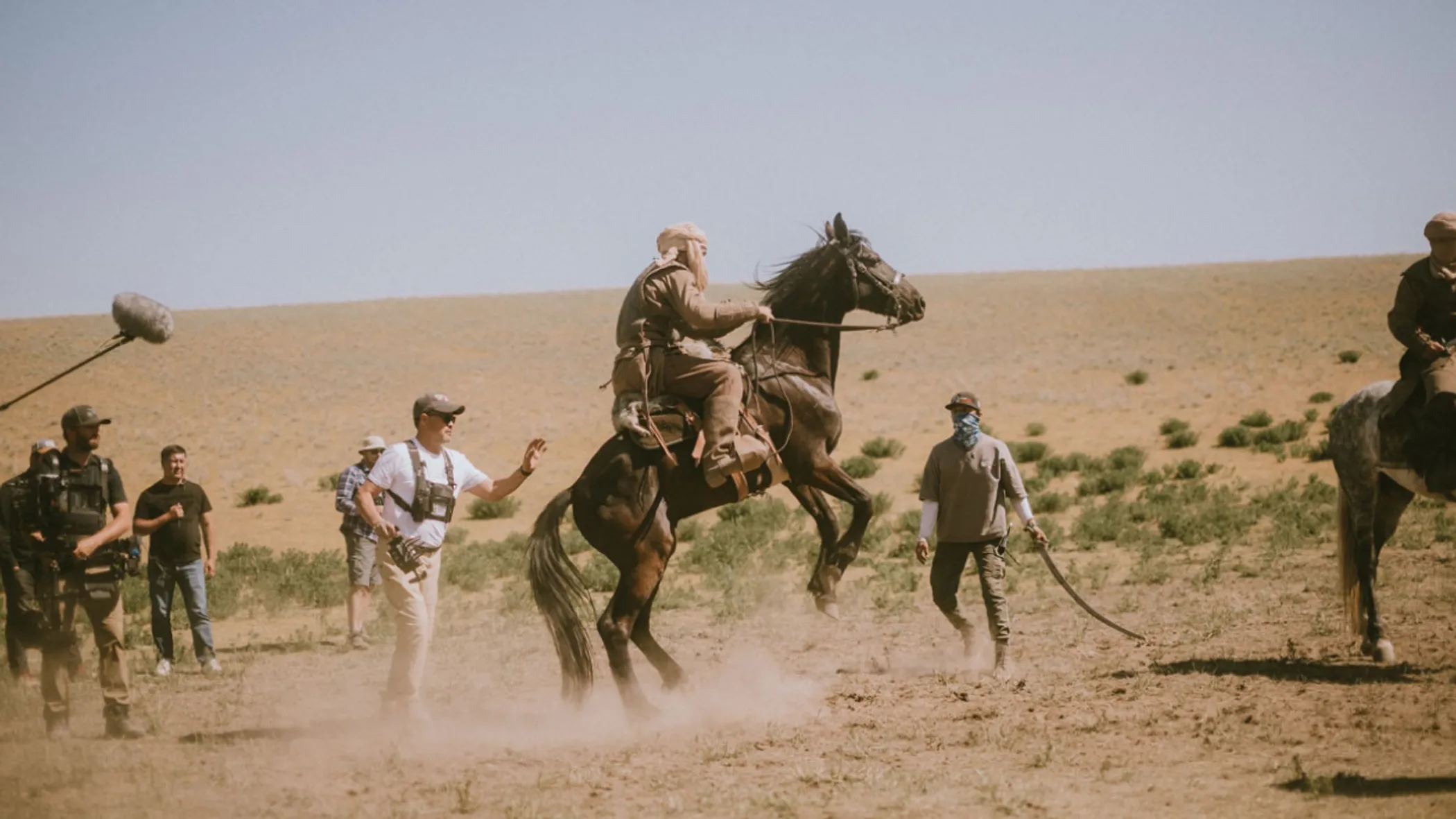 Speaking of 'Qazaq style', is this the secret of Nomad Stunts' success?
I mean, to some extent, it is. Kazakhs are more flexible and quick to adapt. They come forward at full throttle, no matter what. I would say, it makes them multi-faceted and multi-dimensional players, no less. We may look different, but we tick all the boxes – horse riding, acrobatics, martial arts, fire, archery, stunt falls, fencing, etc. That's why we are involved in big international projects like the upcoming Ridley Scott's Napoleon. We have a different approach to stunts. I've worked with a lot of stunt performers all over the world. Normally they have a limited area of expertise. At some point they just stop, because it is outside of the radius of their capacity. However, in the grand scheme of things, I think, the success formula is simply based on strict discipline.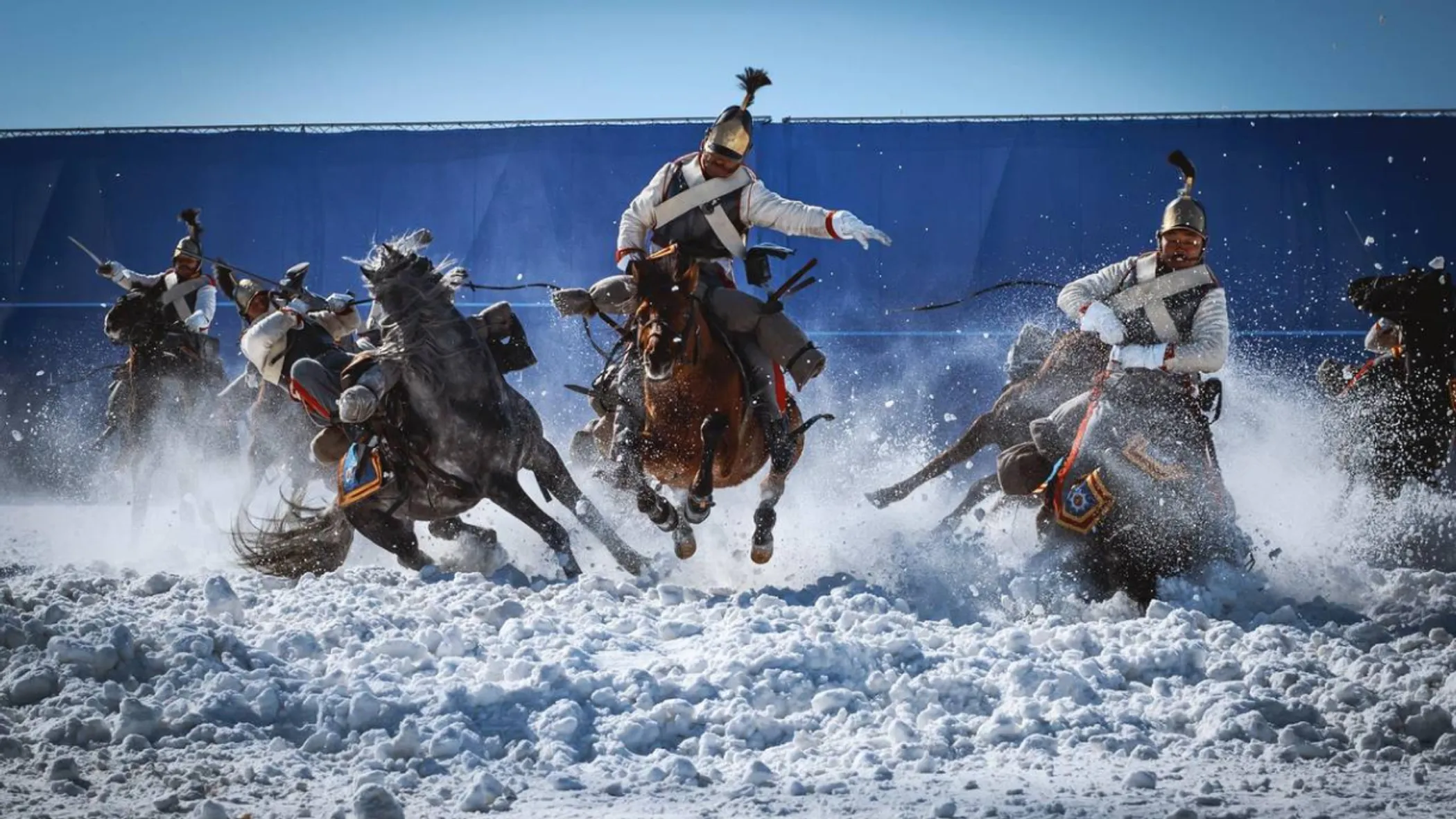 What was the breakthrough project for your team?
Nomad: The Warrior definitely sparked widespread recognition. But Mongol was the project that raised our profile in Hollywood, because after that ​​Peter Weir invited us to work with Ed Harris and Colin Farrell in The Way Back. That's where it all started.
What about your favorite foreign project?
It's The Expendables 2. It was all about a great experience, a lot of amazing actors and incredible action sequences. Plus we showed a good job, unwavering resolve. I remember when Chad Stahelski [87eleven founder, dir. John Wick – QM] kept coming up to me and saying: "Your guys are awesome!" Something that makes this movie remarkable is the Medal of Honor of the American Martial Arts Academy we were humbled to receive for that project.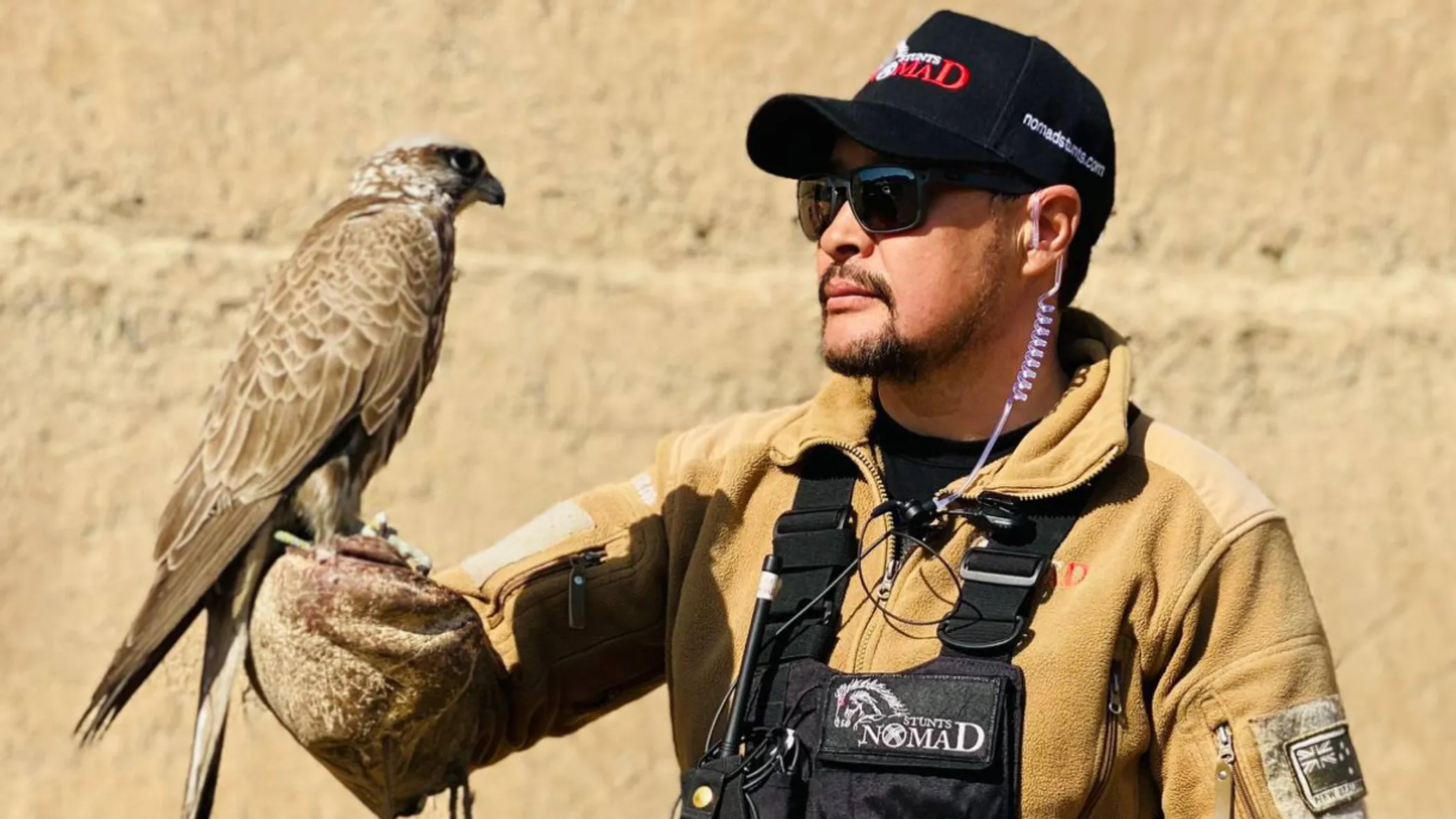 What are the biggest challenges the industry is facing right now?
From my perspective, it is the working conditions here. As overseas it has been the major issue to fight for, the conditions there are great now. Health insurance is another big issue. We never get insurance, so we have to provide ourselves with monetary stock for medical treatments.
Also, stuntmen have no overtime [pay]. Globally, industry is developing at pace, and stuntmen's overwork has already been introduced into the system. We are the first to arrive and the last to leave the set due to the nature of our work with horses – preparation, feeding and stuff. In other ways, all is well in Kazakhstan.
You hold distinction for not only being a stuntman, but an actor as well, which places you alongside, say, Academy Award Winning Michelle Yeoh, who started as a stuntwoman. Are there any plans to focus more on acting?
Yes, there are people who contributed a lot like Jackie Chan, like a lot of stuntmen who became actors. I don't consider myself an actor, given I have some acting credits such as the one in Mulan. I mean, I would love to, but I think I don't have enough time for that. I plan to shift my focus to the production side of things. Next year, I am setting up an action films production company to make movies in Kazakhstan, cooperating with foreign companies, the best actors and directors of photography.
What does stunt work mean to you?
This is my whole life. Many people think that it's a job for me. I live and breathe the art of stunt work. This is my life.