Prime Minister Alikhan Smailov held talks with representatives of business circles during his official visit to the United Arab Emirates, QazMonitor reports citing the prime minister's press service.
Smailov met with Musabbih al-Kaabi, Chief Executive Officer of Mubadala group, a state investment and development company ranked 13th in the world in terms of sovereign wealth funds with assets estimated at $285 billion.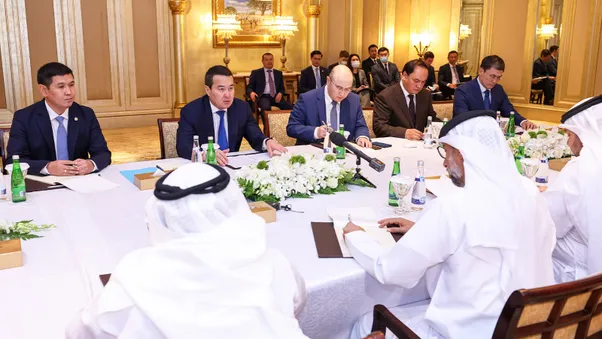 According to Smailov, the Trans-Caspian International Transport Route (TITM) is actively developing today with plans to build a shipyard on the shores of the Caspian Sea through attraction of private investment.
The Prime Minister also outlined the prospects of joint projects in the agriculture, energy, and banking sectors.
The government of Kazakhstan continues to improve the investment climate. Despite the crisis in the world, the inflow of foreign direct investments to our country in Q1 of this year grew by 54% and made $6.8 million.
Alikhan Smailov, the Prime Minister of the Republic of Kazakhstan
Musabbih al-Kaabi noted that Mubadala actively seeks opportunities for launching investment projects in Kazakhstan, especially in the areas of green energy, finance, mining metallurgy, oil and gas.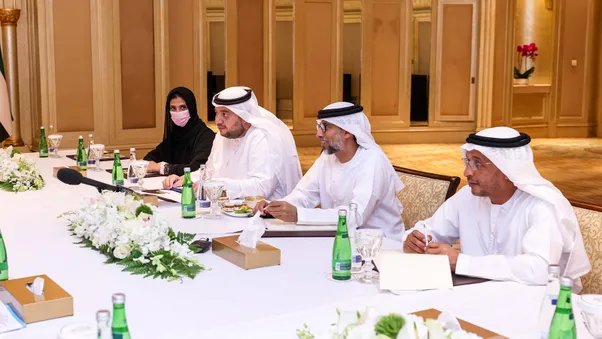 Smailov also held talks with Mohammed Al Suwaidi, Managing Director and Chief Executive Officer of ADQ. ADQ is one of the largest holding companies in the region with direct and indirect investments in more than 90 companies.
Following meetings, a number of bilateral commercial documents were signed in various sectors of the economy for a total amount of $900 million. These include:
A "SmartCity&Adtech" integrated solution contract between Citix LLP and The Gulf Foundation for the implementation of an innovative and IT solutions project in the UAE
memorandum of understanding between "BI Group" and "International Community Schools" for the construction of a private school in Astana
a memorandum of understanding between Erudite Business LLP and International Community Schools for the construction of a private school in Aktobe
an export contract for the supply of meat products to the UAE between KazakhAgroExport LLP and Health Plus General Trading LLC
export contract for the supply of lamb meat to the UAE between Optograd LLP and Laser Meat Trading Est
Memorandum of Understanding between RGP "KazStandard" and "GulfTIC" on cooperation in the certification of Kazakh products for export to the Gulf and other documents