Prime Minister Alikhan Smailov arrived for his official visit to the United Arab Emirates, where he met with Sheikh Mansour bin Zayed Al Nahayan, deputy prime minister and minister of the UAE presidential administration, QazMonitor reports citing the prime minister's press service.
During the meeting, the Kazakh delegation presented Sheikh Mansour bin Zayed Al Nahyan with a list of promising investment projects worth $6.5 billion for consideration.
Smailov focused on the five largest projects in industry, energy, banking, and agriculture, including the creation of a joint venture fund, the construction of a sugar factory, and the launch of soda ash production.
According to the prime minister, the prospects of the submitted projects line up with Kazakhstan's current priorities that lie in the spheres of mining and metallurgical complex, agriculture, petrochemicals, energy and geology.
He noted that in recent years there has been a consistent increase in the inflow of investments from the UAE to Kazakhstan. Last year, this index rose by 43% to $250 million. Mutual trade turnover in 2021 amounted to $709 million, with a 50% increase compared to the previous year.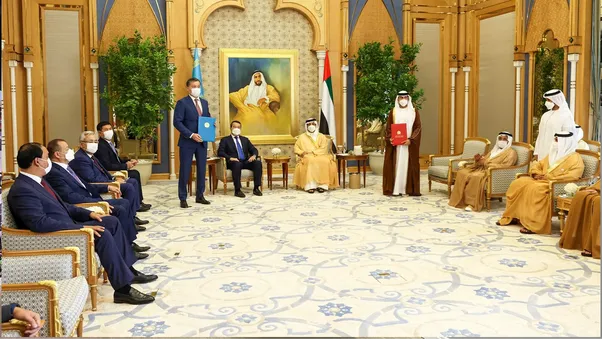 "The United Arab Emirates is Kazakhstan's main trade and economic partner in the region. Emirates retained the leading position among the Arab countries on trade turnover with our country," said the Prime Minister.
Sheikh Mansur bin Zayed Al Nahyan stressed the importance of the visit, highlighting Kazakhstan's position as one of the UAE's leading partners in the Central Asian region and expressed interest in implementing joint projects in banking and agriculture, including the production of sugar and dairy products.
The meeting concluded with the two leaders expressing hope for stronger cooperation between the countries and signing a number of bilateral interdepartmental documents in the areas of ecology, trade, culture and education.