Minister of Culture and Sports Dauren Abaev announced the establishment of a corporate fund to support young Kazakhs working in creative fields, QazMonitor reports citing the press service of the Ministry of Culture and Sports.
During the visit to the construction site of Medeu Creative Hub, the Minister held a meeting with the creative community of Almaty, where he discussed the creation of a fund that will support short-term educational platforms and provide support with necessary space and equipment. This measure is designed to help producers and art managers nurture young talent.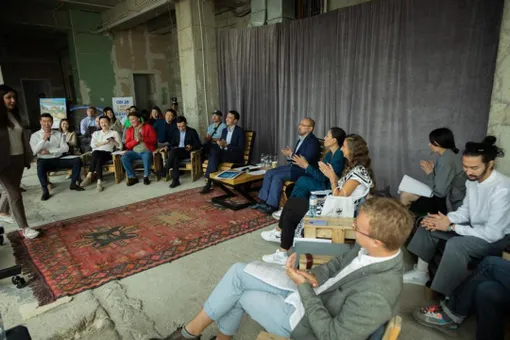 This fall, our ministry will focus on supporting the creative industries. Therefore, it is important for me to hear your ideas and get acquainted with your projects, so we could make an effort to develop the industries. We will work out the approach of supporting talents and creative teams.
Dauren Abaev, the Minister of Culture and Sport
Kazakh-speaking content and the film industry were one of the main topics at the meeting. The issues of Kazakstan's image promotion through art and the collaboration of creative teams located at the creative hubs were also discussed.
After its completion, Medeu Creative Hub will serve as a link between the established creative elites and the youth of the sports and tourism community. The teams will receive an opportunity for residency on favorable terms and bring their projects to life.