On August 19, President Kassym-Jomart Tokayev held talks with Russian President Vladimir Putin, QazMonitor reports citing Akorda press service.
During the meeting, the two presidents discussed in detail the current issues of the multifaceted Kazakh-Russian strategic partnership. Special attention was paid to strengthening trade, economic, and investment cooperation.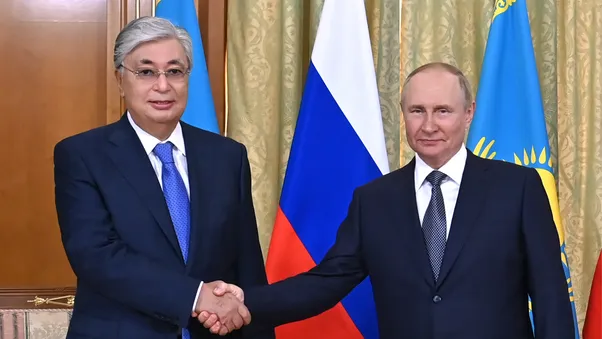 Welcoming Vladimir Putin, President Tokayev noted the successful development of bilateral relations.
"Indeed, Kazakhstan and Russia have a relationship of strategic partnership. This year, we celebrate a very big date - the 30th anniversary of the establishment of diplomatic relations. The Treaty of Friendship, Cooperation, and Mutual Assistance was signed 30 years ago. In 2013, this Treaty was supplemented by a new document of allied relations between our countries, which was signed by you. Therefore, the foundation is very good," said President Tokayev.
The Kazakh head of state expressed his satisfaction with the development of trade dynamics and economic cooperation, pointing out substantial results in industrial cooperation. He noted that last year the volume of trade amounted to $24.5 billion. According to him, Russia ranks first among Kazakhstan's partners.
In addition, President Tokayev noted the active interaction within the framework of international organizations, including through the UN and other international institutions.
"This year Kazakhstan is chairing the CIS. The CIS summit will take place in October. We are counting on your personal participation. Russia plays an important role in the Commonwealth of Independent States. It really is a priority area for cooperation in the international format," he said.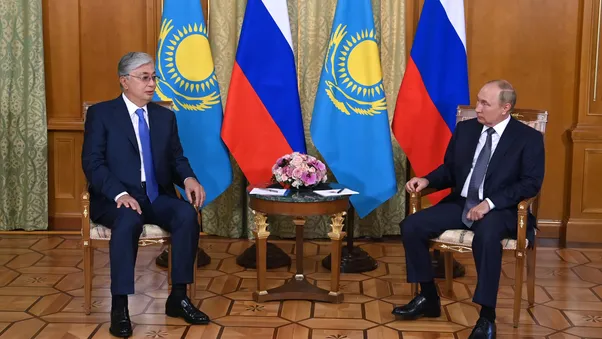 President Tokayev drew attention to the issues of further strengthening bilateral cooperation amid current geopolitical realities.
"The specifics of the geopolitical situation suggest we need to 'sync our watches' in order to perhaps give additional instructions to the governments. They are successfully interacting with each other. Life is prompting new tasks which need to be addressed. On the whole, we have every reason to be satisfied with the way our cooperation is developing. I agree with you in this respect. We are united by a common border, the longest land border in the world, which is fully delimited. There is, of course, no reason to make pessimistic predictions about the future of our cooperation! I personally, as President of the Republic of Kazakhstan, am determined to give additional impetus to our bilateral cooperation in all spheres."
Kassym-Jomart Tokayev
In turn, the Russian President, welcoming President Tokayev to Sochi, expressed his gratitude for accepting his invitation.
"Thank you for accepting the invitation. We meet with you regularly. We have seen each other recently, but we agreed to see each other here in Sochi. We have a very large amount of work. And this year is special. We celebrate the 30th anniversary of diplomatic relations in October. A number of different events are planned for this date. Our ministries and agencies are actively working. The Foreign Affairs and Defence Ministries work actively together to prepare various events, including joint exercises within the CSTO and so on."
Vladimir Putin
The Russian president also supported the development of trade.
"Trade is increasing. Last year, it grew by 34.4%, and, in the first five months of this year, it has grown by 8.8%. Investments from both sides are growing. Russian investments, I think, reached $18 billion, Kazakhstani investments to Russia - four and a half billion. Russia is in first place among the trade and economic partners of Kazakhstan. We are also developing major projects, and we are working in high-tech areas, including space. In general, our work in all areas is proceeding quite actively, in a positive way."
"I am very glad that our meeting, of course, gives additional impetus to the development of our strategic partnership," the Russian leader concluded.