Russian-born Kazakh fighter Damir Ismagulov entered UFC's top 15 ranks for lightweights, Qazmonitor reports with reference to Tengrinews.
MMA Manager Sayat Abdrakhmanov posted the updated version of the ranking, where Ismagulov placed 15th, on his Instagram story.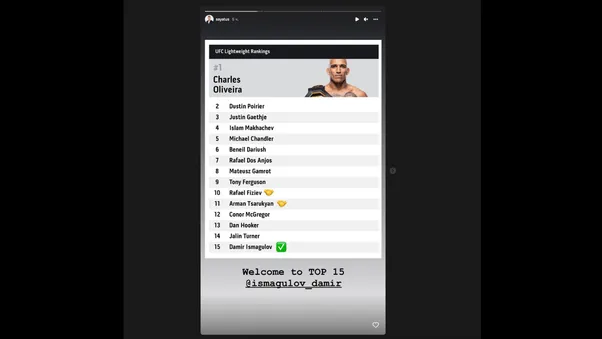 The news comes after 31-year-old Ismagulov bagged his fifth consecutive win in the UFC, beating 30-year-old Swedish of Georgian descent, Guram Kutateladze.
Ismagulov fought for the first time on the main card of the tournament. For Kutateladze, this was his second match and first loss since signing with the UFC.
The fighter, who goes by the nickname "Qazaq", also published the same ranking on his own Instagram page, noting that Conor McGregor is just three positions higher than him. He jokingly wrote in a caption: "Conor, I'm close by, if anything."
Last week, Kazakhstan's Shavkat Rakhmonov entered the top 10 list for the welterweight division after an early win over Neil Magny.