The Second Regional Sustainable Development Goals (SDG) Summit of Central Asian countries, "Beyond COVID ­– Towards Just Recovery in Central Asia" is taking place in Almaty from June 16-17, three years after the first regional SDG Summit devoted to financing global development agenda.
Regional cooperation
The second regional Summit is attended by political leaders from governments of Central Asia, international experts, representatives of international organizations, the diplomatic community, private sector leaders and civil society representatives from Central Asia.
The Summit was organized by the Government of Kazakhstan and the United Nations Development Programme in Kazakhstan and funded by the European Union and the Asian Development Bank. On behalf of the organizers, the Prime Minister of Kazakhstan, Alikhan Smailov and United Nations Under-Secretary-General and UNDP Associate Administrator, Usha Rao-Monari, delivered the welcoming speech.
Our region is highly vulnerable to various impacts of climate change. The tragedy of the Aral Sea, the Semipalatinsk nuclear test site, the melting of glaciers and desertification threaten not only Kazakhstan and the Central Asian region, but the whole world. Despite Kazakhstan's dependence on fossil fuels, we are determined to fulfil our obligations under the Agreement to reduce greenhouse gas emissions by 15% by 2030 and achieve carbon neutrality by 2060.
Alikhan Smailov
The Prime Minister highlighted that regional cooperation among Central Asian countries is a key factor in the implementation of SDG. In relation to this statement, the UN Center for SDGs for Central Asia and Afghanistan is planned to be opened in Almaty. During the bilateral meeting with Alikhan Smailov, Usha Rao-Monari confirmed the readiness of the UN to maintain support for the sustainable development of Kazakhstan.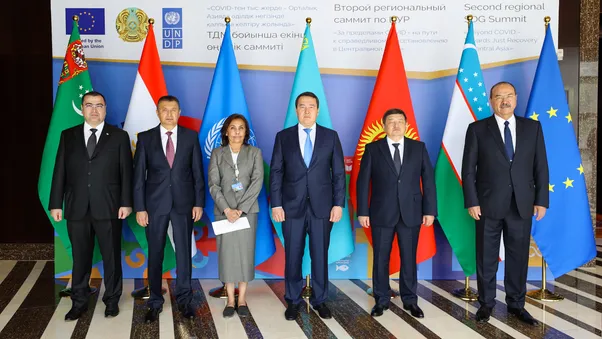 The sessions of the Summit provide a platform for discussing regional development challenges in Central Asia and strategies for post-pandemic recovery with a special focus on the "green" economy and the climate agenda. Topical presentations were also delivered by a number of top-notch experts from around the world. The round table of city mayors discussed the transition to sustainable development through the localization of the SDGs of large and small cities in Central Asia.
Heads of the governments of Central Asia, such as Chairman of the Cabinet of Ministers of the Kyrgyz Republic Akylbek Zhaparov, Prime Minister of the Republic of Tajikistan Kokhir Rasulzoda, Prime Minister of the Republic of Uzbekistan Abdulla Aripov and Deputy Chairman of the Cabinet of Ministers of Turkmenistan Mukhammetguly Mukhammedov were also welcomed at the Summit.