Athlete Cansel Deniz, @canseldenizzzz, won a gold medal at the President's Cup of the Asian Federation in Iran, reports Olympic.kz. In the finals, the Kazakh taekwondo fighter defeated Rama Aboalrob from Jordan. Thanks to this victory, the athlete scored a ticket to the Asian Championship to be held in South Korea.
This is Cansel's third time in Iran. Earlier, she won silver medals at the Asian Club Championship and Fajr Open traditional tournament in Tehran.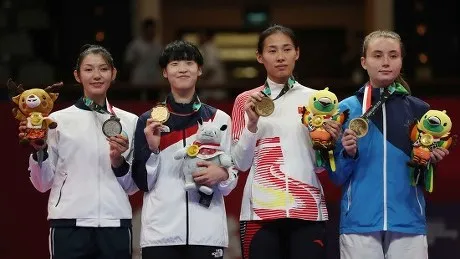 Eyes on the prize
Cansel was born in Stepnogorsk. Her birthname was Zhansaulé, but now she goes by Cansel. When the athlete was six years old, her family moved to Turkey where the girl started her sports career.
At first, I played volleyball. Then I switched to taekwondo because it is very difficult to get to the Olympics in team sports. My dream was to compete in the Olympics.
Cansel repeatedly won gold in the Turkish championships and participated in many international competitions, where she was noticed by the sports representatives of our country.
In 2014, Cansel was invited to the national taekwondo team of Kazakhstan. "I was very happy when representatives of the Kazakhstani national team called me," the athlete recalled. Since 2016, she represents Kazakhstan in all competitions.
In 2017, she won a silver at the Universiade. In the final of that competition, she lost to the same athlete from South Korea, but got a ticket to the Olympic qualifying tournament.