September 21-25, Almaty hosted the first-ever World Togyzkumalak Championship among schoolchildren (U-15, U-17), QazMonitor reports citing Almaty Akimat.
Following four days of competition, the judges determined the best players in the 'Rapid' and 'Blitz' disciplines. Kazakhstan's team claimed the top spot overall, earning eight gold medals.
Over 200 players from 17 countries participated in the Championship for school students, including the Czech Republic, Mongolia, Turkey, Bangladesh, Spain, Colombia, Pakistan, Hungary, Uzbekistan, and others.
The total prize fund of the tournament amounted to 8 million tenge.
Below are the results of the World Togyzkumalak Championship among schoolchildren:
1. Azimkhan Makhmutzhan (Kazakhstan)
2. Zauytbek Les (Kazakhstan)
3. Sultashev Nurel (Kyrgyzstan)
4. Orlando Guido Vergel Benitez (Colombia)
1. Aidana Moldabek (Kazakhstan)
2. Bahiiana Turgunaliyeva (Kyrgyzstan)
3. Yerkezhan Asankulova (Kazakhstan)
4. Madina Yeskair (Kazakhstan)
1. Yernur Batyr (Kazakhstan)
2. Nadir Akhmetov (Kazakhstan)
3. Baimbet Seidakhmatov (Kyrgyzstan)
4. Alejandro Daniel Hiron Chilito (Colombia)
1. Ayana Isakhan (Kazakhstan)
2. Balnur Tilegenova (Kazakhstan)
3. Ayana Turganaliyeva (Kyrgyzstan)
4. Alexandra Zhavoronkova Amigo (Spaing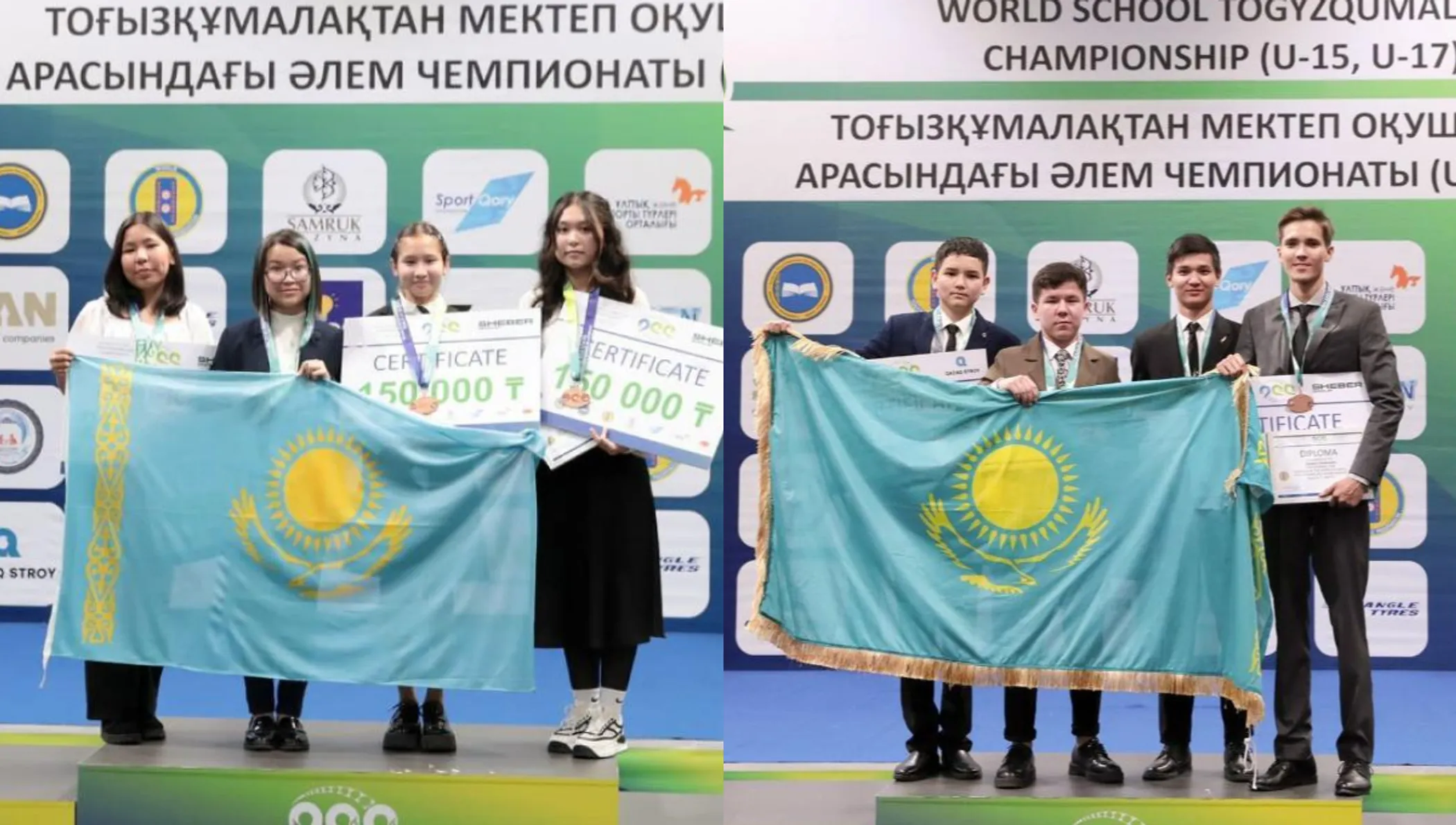 1. Sapar Tamerlan (Kazakhstan)
2. Yessentai Arsen (Kazakhstan)
3. Zauytbek Les (Kazakhstan)
4. Azimkhan Makhmutzhan (Kazakhstan)
1. Viktoria Belitskaya (Kazakhstan)
2. Albina Yesmukhan (Kazakhstan)
3. Nazira Kuatzhankyzy (Kazakhstan)
4. Zhanel Kurmangaliyeva (Kazakhstan)
1. Adlet Bekmakhan (Kazakhstan)
2. Aidyn Zhakyiev (Kazakhstan)
3. Kairat Turarbek (Kazakhstan)
4. Salahaddin Agitayev (Kazakhstan)
1. Samira Orazmukhanbet (Kazakhstan)
2. Ayana Isakhan (Kazakhstan)
3. Aiym Alibekkyzy (Kazakhstan)
4. Akzhibek Manarbekkyzy (Kazakhstan)