In a recent report, Azamat Samenov, an analyst from the Institute of Economic Research, compiled a ranking of cities in Kazakhstan based on their average income levels.
Key Economic Metric: Income
"Income is a pivotal economic metric, offering insights into the purchasing power of a population, income distribution patterns, and serving as an incentive to enhance labor efficiency and retain qualified workforce in a region. Furthermore, income significantly influences a city's overall appeal when compared to other urban centers. Experts involved in this study meticulously analyzed data provided by the National Statistics Bureau for 26 Kazakh cities for Q3 2022 and compared it with the corresponding data in 2021," the experts explained.
The report compared income levels with the cost of living in the cities (in tenge). In Q3 2022, the wage ranking is as follows: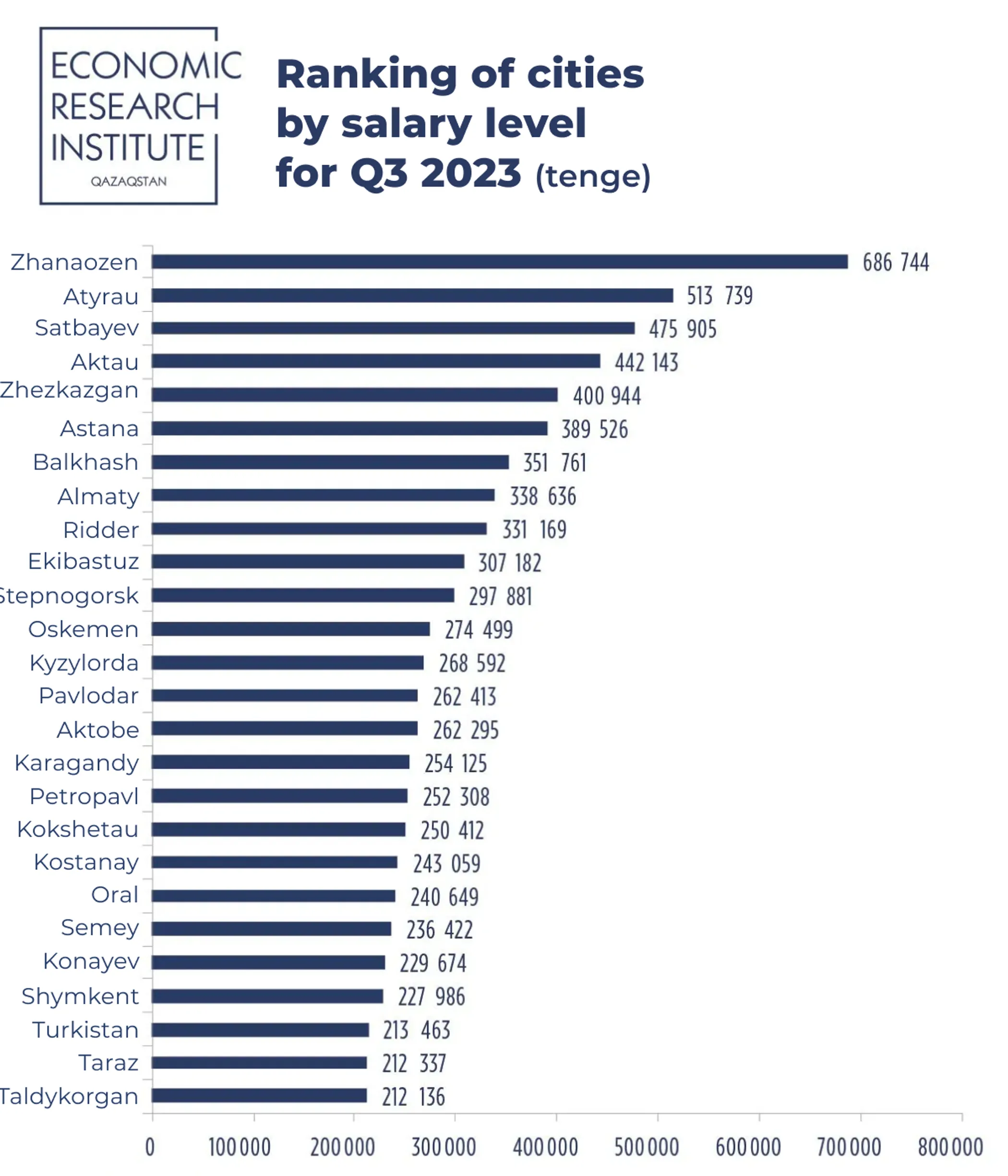 According to the rating, Zhanaozen showed the highest income level at 686,744 tenge, while the lowest income was recorded in Taldykorgan at 212,136 tenge (3.2 times smaller). Zhanaozen also ranks high in terms of the minimum subsistence amount (60,697 tenge, compared to 31,211 tenge in Turkestan), which might indicate a higher cost of living in the city.
Understanding the Cost of Living
The cost of living is calculated based on the cost of a food basket, added by a fixed share of expenses on essential non-food items and services. For instance, the cost of the food basket is calculated by multiplying scientifically grounded physiological norms for food consumption, tailored to different gender and age groups, by average retail prices.
Thus, expenses on the food basket and non-food items, which together form the cost of living, can provide insights into the 'cost of living' in a particular locality. "To account for the 'cost of living,' we compared the cost of living with income levels in cities to understand how much the average income exceeds the cost of living," explained the Institute.
Wages Exceed Living Costs
Income surpasses the 'cost of living' by the greatest margin in cities like Atyrau, Satpaev, Zhanaozen, Aktau, Zhezkazgan, and Balkhash, along with several other single-industry cities. Notably, these cities typically have a lower share of the self-employed, with a majority of the population being formally employed in industrial enterprises, Azamat Samenov noted.
Challenges in Southern Cities
In contrast, income covers the 'cost of living' the least in several southern cities of Kazakhstan, except for Kyzylorda.
According to the report, Astana and Almaty do not lead the list. Shymkent, a major metropolis, also ranks low on the list, which might indirectly hint at the existence of a 'shadow economy' and unaccounted income.