Almira Yerbolat, a New York resident, recently posted a personal essay describing a heartwarming moment that happened between Dimash Kudaibergen and a 10-year-old fan with autism after the singer arrived at Las Vegas airport to perform at GGG vs. Canelo match.
Almira is a long-time fan of Dimash, who flew from New York to Las Vegas after learning that he will be landing at Las Vegas airport on September 15 at 8:24 p.m. She said she had never been to Nevada before and had overcome her fear of traveling alone to see him in person.
"I won't sleep at night, I just need to reach Las Vegas airport before Dimash and hold our blue flag," she had reasoned, while frantically looking for plane tickets the night before he was supposed to arrive.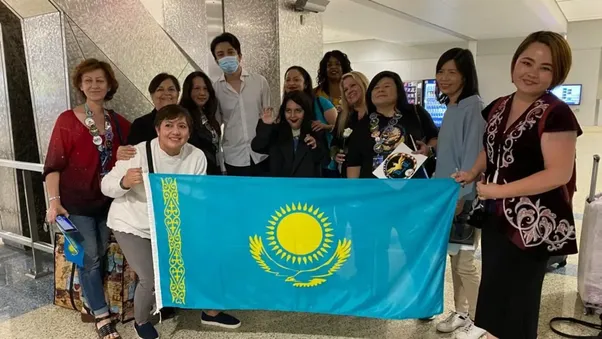 She quickly found other fans on social media, who were also planning to meet him at the airport. Almira described the community to be outgoing and supportive, giving her safety tips and advice on how to find a hotel.
At one point, she struck up a conversation with a woman named Nancy, who wanted to bring her son Gabriel to see Dimash. Nancy was hesitant since she had received comments telling her a child would only be a nuisance to everyone present.
Gabriel had autism and did not speak until he was nine years old. One day, the mother had come across her son singing along to Dimash Kudaibergen's SOS song in French without missing a word. Nancy could not believe her eyes.
Since that day, Gabriel began to memorize every single song Dimash released, regardless of the language. He listened to Dimash's songs day and night. He even started to speak.
For Nancy, Dimash was a figure, who, despite living on the other side of the world, possessed a mystical power to help her son heal. As soon as she had heard Dimash was coming to the US, she knew she had to make it possible for Gabriel to meet him in real life.
Hearing Nancy's story, Almira expressed her support and encouraged the anxious mother to bring her son to the airport.
Flash forward to the night of September 15, Almira met up with Nancy and Gabriel at the Las Vegas airport, waiting for the Kazakh singer with the sky-blue flag folded out in front of her.
Dimash's plane did not arrive until 9:30 p.m. When he came out, Gabriel was the first to find Dimash in the crowd. He ran up to the singer who held the boy in a tight hug.
According to Almira, Dimash stayed to talk to his fans for about 15 minutes. In that time, Nancy got her chance to tell the singer about Gabriel and how much he had helped her son through his songs.
After that, Dimash got up from his seat and walked towards the boy for another hug.
"I don't have anything to give you now. Let this be my gift to you," he said, took off his suit jacket and draped it over Gabriel's back.
Almira recalled people being moved to tears by the kind gesture. "The happiness of the boy was shared by all the fans of Dimash gathered there," she wrote.
After parting ways with the singer, his fans went to eat together. Little Gabriel, dressed in Dimash's costume, seemed different than his usual self. He was calm and content. He happily smoothed his hands over the jacket, hugging his mother and walking with a bounce in his steps. Seeing her son's joy, Nancy burst into tears again.
It was later known that the suit jacket was the same one Dimash wore when he met Pope Francis.
"He crossed the ocean and gave Gabriel a jacket blessed by the Pope. Nancy, who considered it a miracle, was over the moon that her child found his way to happiness through Dimash's world."
According to Almira, Nancy is taking Gabriel to see Dimash at his concert in Almaty on September 23.
"I feel lucky to have witnessed that moment."