On June 2 in Almaty, the Central Eurasian Venture Forum (CEVF) attracted more than 400 startups and 600 individual and corporate investors. The companies managed to raise over $8 million in investments for their projects at the forum, QazMonitor reports.
CEVF is a large-scale event for investors, startups, and other participants in the IT ecosystem. This year, the forum expanded its reach to cover all of Central Eurasia and attracted more than 1,000 visitors from venture capital funds and corporations. MOST Holding and Investbanq Singapore Investment Platform (Paladigm Capital) served as the main organizers of the event.
Investbanq kicked off the event with a demonstration of its AI-powered digital investment platform.
"Today, there are key regions and areas that are of interest to investors but lack investment products. One such region is Central Asia. AI is an industry that no one can ignore. It is a great pleasure to realize that our forum is a symbiosis of two current topics," said Olzhas Zhiyenkul, CEO and founder of Investbanq.
Chevron Corporation and Impact hub Almaty set up the Startup Alley on the forum's premises. Hero Study, an online one-stop-shop system for the management and analytics of higher educational institutions, emerged as the winner of the MOST Investable Battle competition among startups. AI-chat platform GoatChat and Kwakka – an integration service for delivery aggregators in restaurant POS-systems – won the online voting in the Fastest Growing Startup of the Year and Discovery of the Year categories, respectively.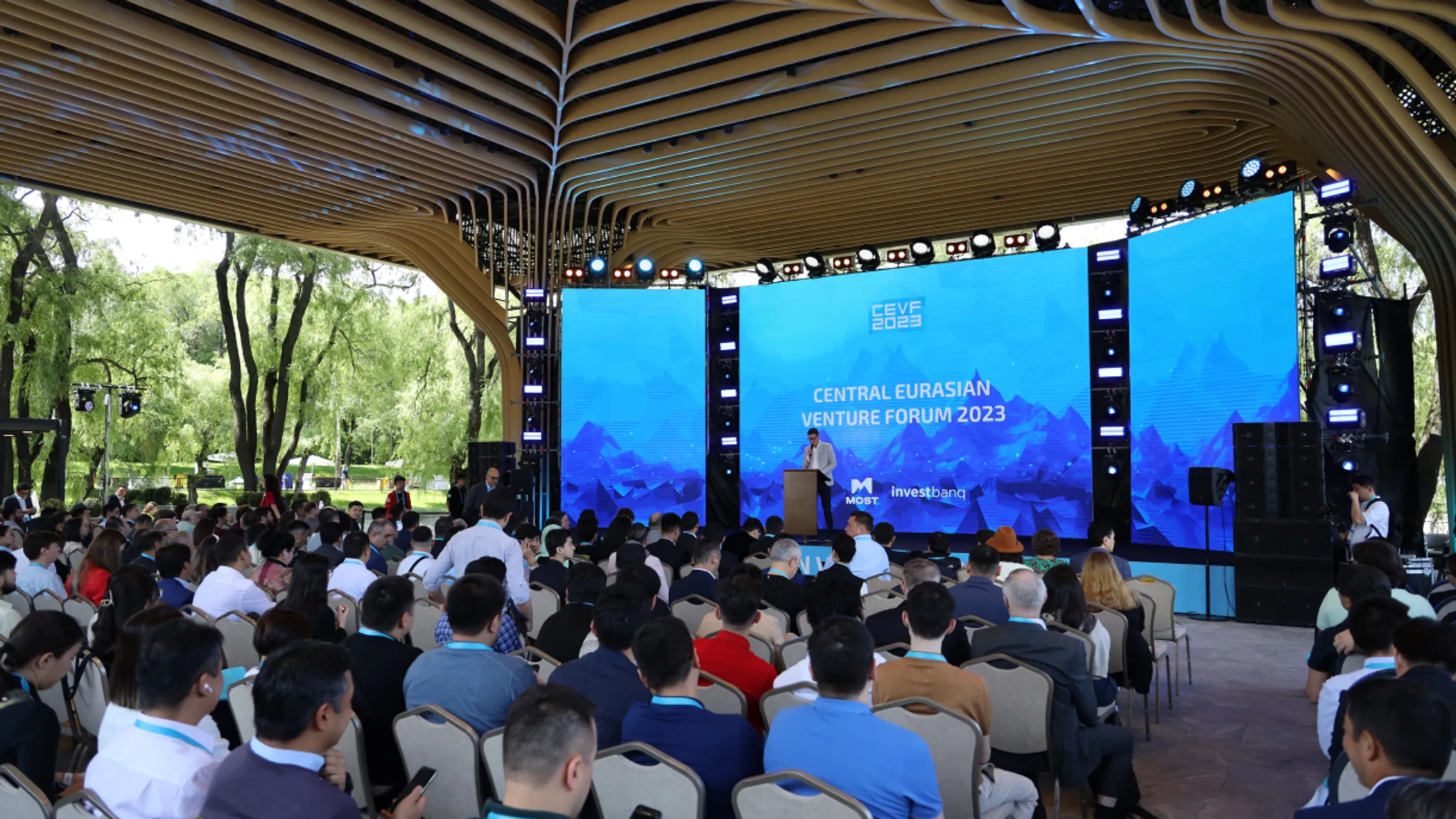 The Astana Hub International Technopark hosted the Space Tech Battle, a competition for space tech startups, with a prize fund of $15,000. The CEVF forum also included the Silkway Accelerator Pitch Marathon, where six participants from the joint acceleration program of Astana Hub and Google for Startups (BILLZ, Kid Security, TrustСontrast, Prosper Pay, Codify, and Voiceloft) presented their projects to investors.
Pavel Koktyshev, co-founder and managing partner of MOST Holding, expressed the organizers' intention to continue expanding the forum's reach in the coming year.
"CEVF is not just an event. It is our attempt to measure and reflect the real state of the venture capital market in Central Eurasia. Every year, we see significant growth and development in this market. Our forum becomes a meeting point for thousands of people, including investors and startup founders, giving even the newest projects a chance to attract serious investments." Pavel Koktyshev, co-founder and managing partner of MOST Holding.
During the forum, MOST Holding announced a couple of projects. They revealed the launch of MOST Ventures Fund II, the company's second venture fund scheduled to launch in the second half of 2023 with an authorized capital of $30 million. The company also presented a study of the startup and venture ecosystem of Almaty commissioned by the city's department of digitalization.
"The purpose of our research was to comprehensively study the dynamics and trends in the IT market of Almaty, as well as provide relevant information for all stakeholders. We believe that the results of our research will help better understand and more effectively interact with the startup community, as well as serve as a basis for creating city services to support innovative entrepreneurs," said Bayan Konirbayev, head of the department of digitalization.
MOST Holding also unveiled an ambitious technological cluster ecosystem called MOST IT CITY, where companies, startups, investors, IT University students, and state bodies can interact to facilitate the exchange of knowledge, create innovation, and attract investment in the IT sector. In partnership with construction company Qazaq Stroy, MOST plans to develop modern infrastructure for the city, including offices, co-working spaces, residential complexes, a park, public spaces, and other urban infrastructure.
Furthermore, the EBRD and MOST Holding held a round table discussion focused on the ESG (Environmental, Social, and Governance) and SDG (Sustainable Development Goals) principles in the Kazakh IT market.