Bagdat Mussin, Minister of Digital Development, Innovation and Aerospace Industry of Kazakhstan, presented new plans for the development of e-government and the eGov mobile application, QazMonitor reports.
The minister participated in the Digital Almaty forum, an annual dialogue platform to discuss the digital agenda, new strategies for digital transformation, and trends in digital technology.
"You can already receive many government services through our service [eGov]. We are working on the creation of other convenient services, which will be actively used by our citizens," he said.
One of them is a call for a patronage nurse with notification of the time of her arrival, name, and phone number.
"People are no longer more interested in getting birth certificates and maternity benefits, but specific things about child care. We are now going from just digitizing services or paperwork to having our digital processes really permeate all life situations," the minister said.
This year the department plans to reduce the time to receive prenatal benefits (a one-time social payment for loss of income due to pregnancy and childbirth) from 15 days to 1 hour. According to the minister, at least 400 thousand families a year use such a service.
The minister believes that the number of active users of eGov mobile in 2.5 million people per month and 200 thousand people per day is a modest figure, and hopes that the number of users will only grow. After all, 20 digital documents can already be obtained through the portal as well as the use of a QR code.
Kazakhstan ranks 28th in the world ranking on the level of e-government development. But the ratings are not a goal in itself but a result. The goal is to build a human-centered state where citizens do not have to come across delays from bureaucracy, corruption, and so on
Bagdat Mussin
Mussin also shared the results of the Smart Data Ukimet project. "According to 80 different parameters we assess the living conditions of 6.3 million Kazakhstani families uploaded to the database. Analyzing this information, we understand which family and how to help," he said.
"The digital family map is only the beginning. We need to take apart each life situation and build a kind of invisible government. This is when the state invisibly helps the citizen in various areas."
As an example, around 2.5 million citizens have already submitted their appeals to government agencies on various issues through the eOtinish service.
"On eDensaulyq we have implemented many medical services, prescriptions, and other data that citizens need at hand when visiting hospitals and clinics... We as a state are more focused on helping entrepreneurs and founders of digital platforms to create conditions to win the hearts of our citizens with their services."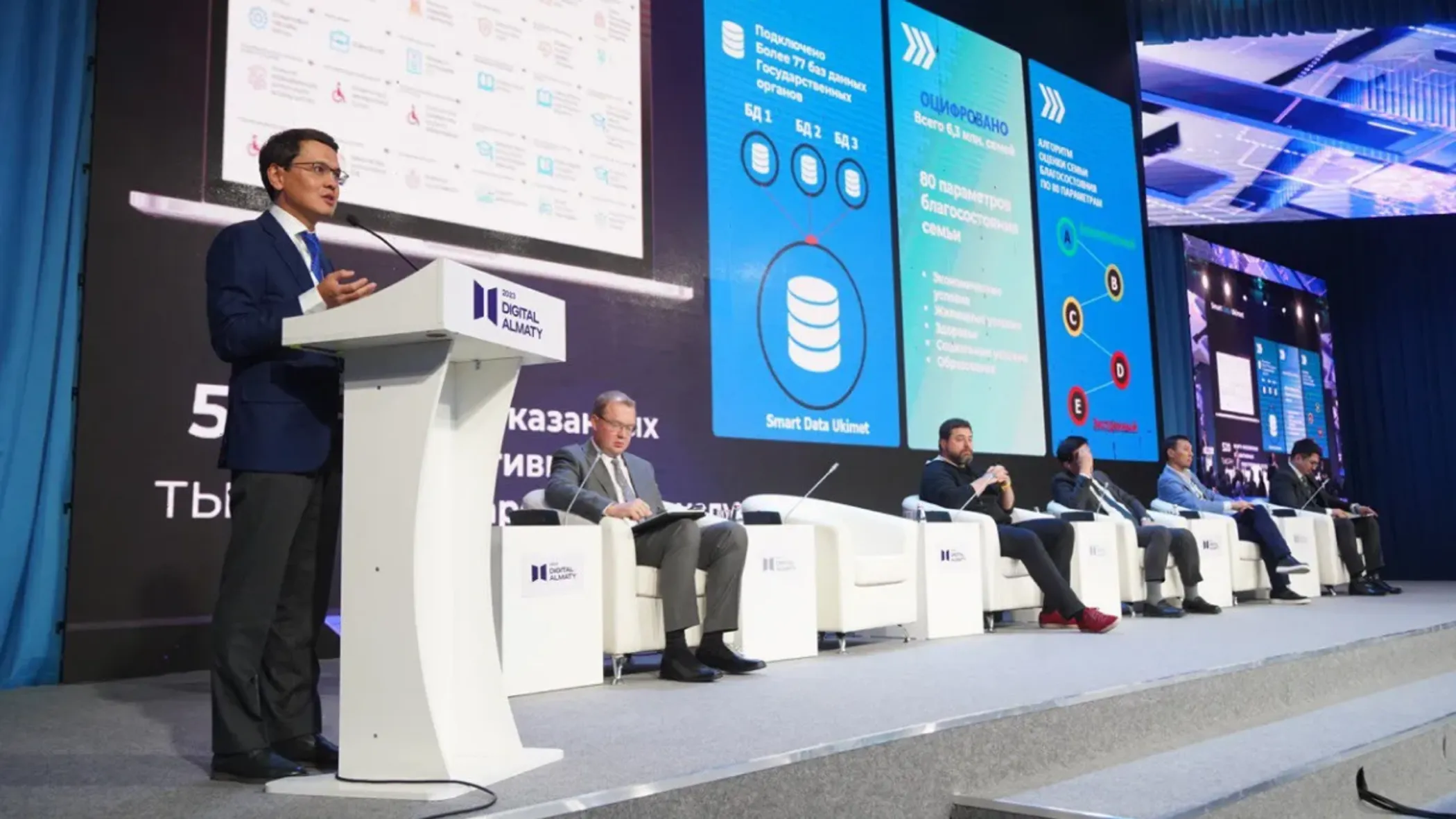 UN representative Vincenzo Acquaro believes that Kazakhstan has become a major global player in digital transformation.
"The country's strong leadership, strategic plans, investments in infrastructure, human capital development, and an adaptive culture of digital transformation are the main factors in the development of the digital sphere in Kazakhstan," said the head of digital government in the Department of Economic and Social Affairs Division of State Institutions and Digital Government.
Jung Soon Hwan, President of the National Information Society Agency of the Republic of Korea, called Kazakhstan a great competitor to his country. Korea has always been at the top of all e-government rankings for two decades.
He said: "In the UN rankings, the Korean government is ranked No. 4. But I think Kazakhstan will soon take Korea's place."