According to the International Telecommunication Union (ITU), Kazakhstan has the most affordable mobile communications compared to other Central Asian countries, QazMonitor reports citing Finprom.kz.
In 2021, mobile communication costs per tariff (70 minutes, 20 SMS, 500 MB) in Kazakhstan amounted to only 1.04% of gross national income (GNI) per capita.
According to the World Bank, Kazakhstan's GNI per capita in 2021 was $8,720.

In comparison, mobile communication made up 3.11% of GNI per capita ($1,180) in the Kyrgyz Republic, 1.14% in Uzbekistan ($1,960), 1.17% in Turkmenistan (no data), and 3.02% in Tajikistan ($1,150).
The world average for GNI per capita in 2021 was $1,270.
The ITU data also shows that the average monthly cost of tariffs in Kazakhstan in 2021 was $6.89 per month, or ₸2,900 (only 4.4% of the average expenditure in Kazakhstan).

The median mobile Internet speed in Kazakhstan increased to 22.41 Mbps in October this year, compared to 19.49 Mbps a year earlier.
According to Speedtest Global Index, the median mobile Internet speed in neighboring Central Asian countries is significantly lower than in Kazakhstan.
The only exception is the Kyrgyz Republic, where the speed reached 20.92 Mbps (not taking to account the country size difference). Uzbekistan and Tajikistan have 15.22 Mbps and 8.01 Mbps, respectively.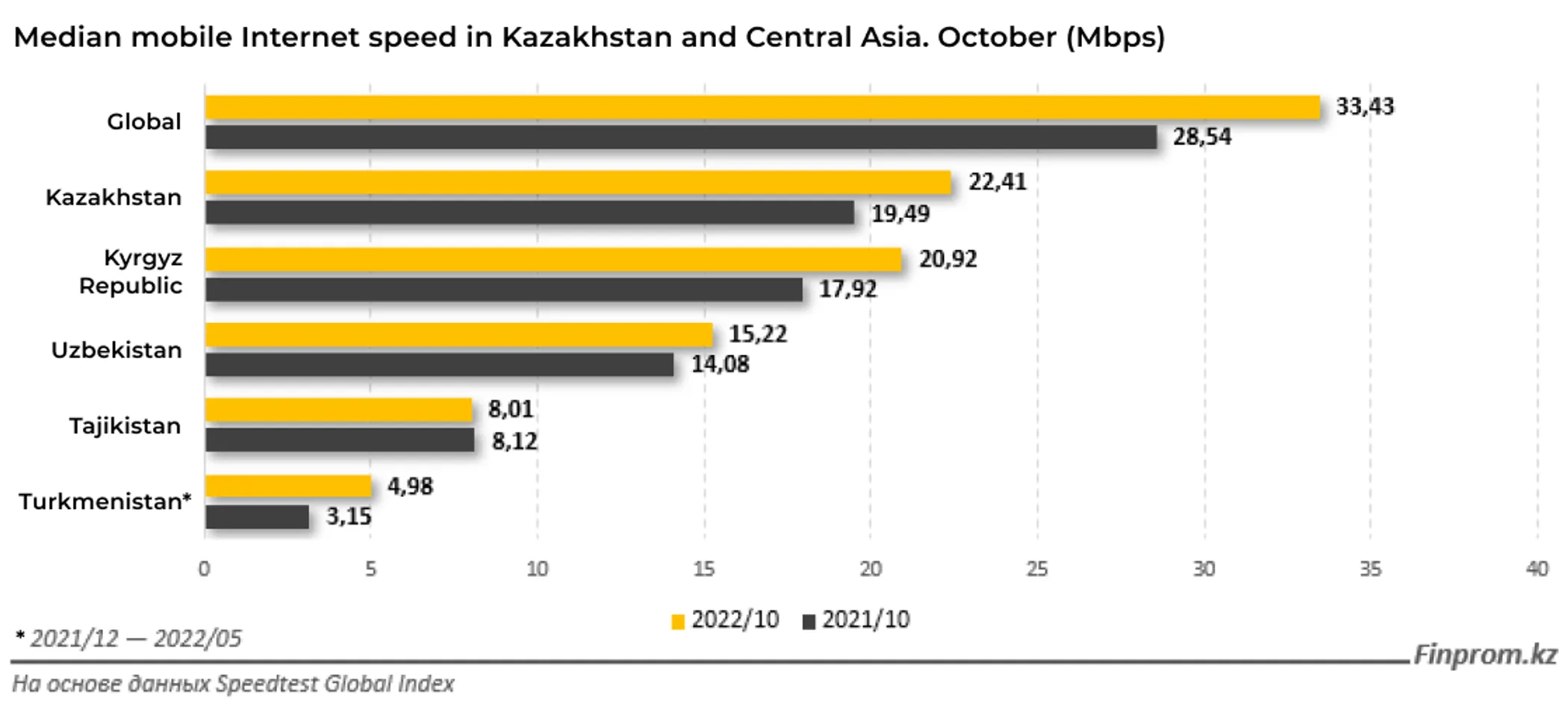 While the Kyrgyz Republic and Uzbekistan saw an increase in mobile Internet speeds, Tajikistan, on the contrary, saw a decline. In Turkmenistan, the data on the median speed of mobile Internet in October of this year is unknown, but according to the latest data for May it was only 4.98 Mbps.
Globally, the median mobile internet speed has increased over the year from 28.54 Mbps to 33.43 Mbps by October 2022.